Plus-size causes stir, NY Fashion Week debut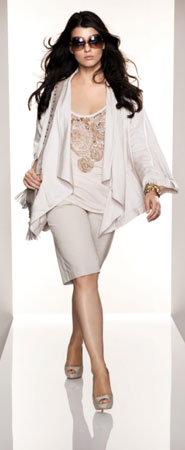 Evans SS10 Collection
"Style is not a size but an attitude", Big Beauty blogger comments as she announced her S/S 2010 collection for Taillissime plus-size line at La Redoute. A 45 per cent rise in UK women's plus-size clothing sales in just five years has attracted worldwide attention for retailers like OneStopPlus.com and Evans and equally led top designers, like Marc Jacobs to respond to this demand.
By acknowledging the fact that more than four in 10 people in the UK (according to a recent Mintel Report) complained that plus-size clothes are less fashionable, OneStopPlus.com, the world's top plus-size retailer, announced on Tuesday their launch onto the runway at NY Fall Fashion Week.
September 15 will see the first ever plus-size-only runway show with famed curvy models flaunting the Spring 2011 fashions hosted by plus-size icon Emme, the new ambassador to OneStopPlus.com, a brand under the Redcats USA umbrella who recorded 3,386 million Euros in turnover last year.
UK's Arcadia brand Evans equally aims to celebrate different shapes offering clothes with uncompromising style. Their latest campaign stars Crystal Renn who appeared on the catwalk for Jean Paul Gaultier, and launched a book, aptly named 'Hungry'.
Stephanie Sobel, President of OneStopPlus.com says, "Top plus-size models like Crystal Renn and Lizzie Miller in Italian Vogue, French Elle, Glamour, Marie Claire, and others, validate that this is the magic moment for plus sizes."
Gary Dakin VicePresident of Ford Models in the US says that it is supermodels like Crystal that will "knock down the final barriers" to make the fashion industry take note, size doesn't matter. Evans has proved this with the recent launch of the Beth Ditto collection.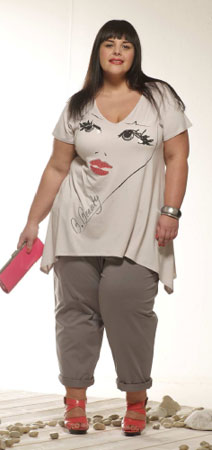 Stephanie Zwicky, Big Beauty Blogger, Tailiissime model
This industry is no longer niche but a mass market worth £3.8 billion this year. Larger-size menswear has also grown steadily – up six per cent to £1.9 billion since 2005.
Ready-to-wear brand Marc Jacobs recently announced the need for a plus-size line to provide sizes in UK 14, US 10 (Euro 42). If designer Marc and brand's president Robert's plans are successful, experts say they could capture a huge untapped market.
Obesity health issues are fuelling the lucrative market despite efforts from numerous celebrities who have publicly battled with weight loss. Today, the most purchased women's clothing size in the UK is size 12, at 31 per cent, followed by size 14.
By Rosie Hart
Copyright © 2023 FashionNetwork.com All rights reserved.