Phillips-VanHeusen Q3 beats Street, cuts '08 view
* Q3 adjusted EPS $1.10 vs Street $1.06
* Company lowers Q4, full-year earnings, revenue view
* Shares close down 7 percent
SAN FRANCISCO, Nov 18 (Reuters) - Phillips-Van Heusen Corp posted lower quarterly net income on Tuesday as more promotions and advertising costs cut into profit, and the apparel maker lowered its 2008 profit and revenue forecasts.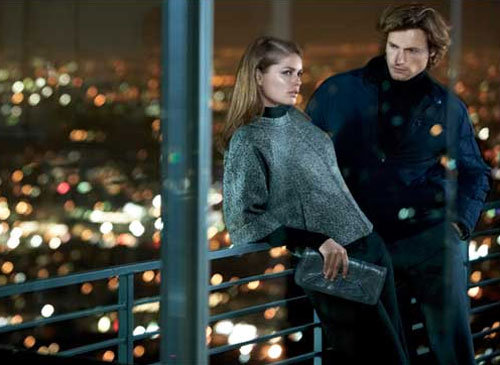 Phillips-Van Heusen Corp - Calvin Klein
The company best known for its Calvin Klein brand said net profit in its third quarter was $53.7 million, or $1.03 per share, compared with $60.9 million, or $1.05 per share, a year earlier.
Excluding costs associated with the closing of the company's Geoffrey Beene outlet division, earnings were $1.10.
That was above the $1.06 expected, on average, by analysts, according to Reuters Estimates.
Phillips-Van Heusen, which licenses many apparel brands and owns such lines as Izod and Van Heusen, said sales rose 4 percent to $727.5 million in the quarter, helped by the Calvin Klein licensing business.
"The recent and rapid deterioration in the overall economic environment in the U.S. and abroad has decreased consumer confidence and spending beyond what we had previously anticipated," Chief Executive Emanuel Chirico said, noting also that the stronger U.S. dollar had cut into results.
More promotional selling hurt gross profit margins, as did same-store sales declines in the company's heritage outlet retail business, the company said. Phillips-Van Heusen also spent $9 million in advertising during the third quarter that it usually spends in the fourth.
Looking ahead, Phillips-Van Heusen said it now sees adjusted earnings per share of $3.00 to $3.10 for fiscal 2008, and 35 cents to 45 cents for the fourth quarter.
On a Generally Accepted Accounting Principles (GAAP) basis, earnings are estimated to be $2.71 to $2.81 for the full year, and 23 cents to 33 cents for the fourth quarter.
Revenue is expected to range from $2.51 billion to $2.53 billion, up 3 percent to 4 percent over 2007.
In August, the company forecast full-year revenue would rise 6 percent, and said full-year adjusted earnings per share would range from $3.32 to $3.41.
Phillips-Van Heusen shares closed down 7 percent at $15.51 on the New York Stock Exchange. (Reporting by Alexandria Sage, editing by Richard Chang)
© Thomson Reuters 2022 All rights reserved.