Peru has free trade with the USA, China. Is Europe next?
A few weeks after signing a free trade agreement with the USA, Peru continued its international foray with a parallel agreement with China. With $2 million in exports in 2008, the Peruvian textile industry could also benefit from a similar agreement currently being negotiated with the European Union.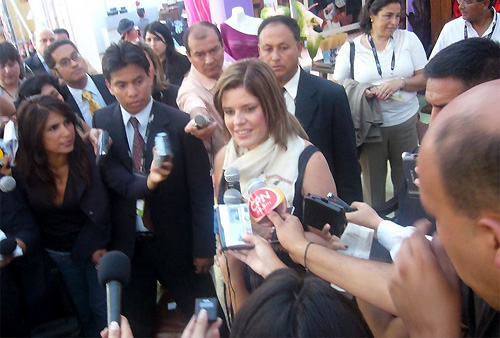 Mercedes Araoz, Peruvian Minister of Tourism and External Commerce
The Free Trade Agreement (FTA) between China and Peru was the first of its kind with a Latin American country for the Asian power, and is the fruit of negotiations between the Peruvian president Alan Garcia and his China counterpart Hu Jintao, which were concluded during the latter's last visit to Lima in November. The FTA should see the gradual removal of customs taxes on more than 90% of goods from both countries, including textiles. China, as the second biggest importer of Peruvian minerals in the world – behind the USA – signed the treaty just a few weeks after Washington had done the same. With a GDP which grew by 9.8% in 2008, Peru is clearly counting on these agreements to fight the global recession, which could, according to the Ministry of Finance, cause an annual growth of "only" 3-4% this year.
When questioned by FashionMag.com, the Peruvian Minister of Tourism and External Commerce, Mercedes Araoz, said that she saw these agreements as a fundamental link to build on existing relationships with foreign markets. "In this particular period, the influence of Peru has been expounded by the great work of businesses, of our ambassadors and our consultants who promote the know-how of our industries, particularly in textiles," she explained during the PeruModa fashion tradeshow, which was held in Lima in April. "We must continue to establish relations between our professionals and foreign business and, above all, facilitate their work and trade. Therefore, more work will lead in this way with our international counterparts".
Consequently, it is now a FTA with the European Union that Peru is working towards; it is already a member of the SPG+ programme, which gives reductions on tariffs on the export of perishable goods and clothing to the EU. Free trade could change the game for the country's textile industry. "There are already many large brands which call on Peruvian businesses," explained Rosario Pajuelo, Economic and Commerical Counsel to the Peruvian Embassy in France. "Few professionals know it, a product's origins are not strongly indicated. And yet, there is already competition between the Italian fabric industry and that of Peru, buyers are discovering little by little our competitive prices and know-how. An FTA would be a more stable way of allowing the Peruvian pima cotton to be discovered by the European market, to which it is at the moment relatively unknown".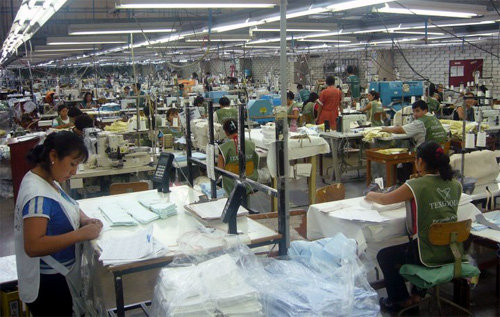 One of Creditex's factories, the company produces for Lacoste, Polo Ralph Lauren and Liz Claiborne
It is on its know-how and high quality materials that the country is planning to build its reputation, whether with pima cotton, alpaca or vicuna linen; a selection which symbolizes the local industry. Companies such as Lacoste, Armani Jeans, Cacharel, Polo Ralph Lauren and Liz Claiborne are now calling on Peruvian textiles. In Europe, France is the largest consumer of Peruvian textiles with €32 million worth of products bought, followed by Germany (€26 million), Italy (€25 million) and Spain (€17 million). It is definitely on the world stage that Peru plans to expand, and subsequently the country is also in negotiation over FTAs with Japan and South Korea, as well as preparing future partnerships with Australia and other countries in Australasia.
By Jonathan Fulwell (Source: Matthieu Guinebault)
Copyright © 2023 FashionNetwork.com All rights reserved.