Paris winter sales get off to chilly start
By Astrid Wendlandt and James Regan
PARIS, Jan 7 (Reuters) - Paris shoppers filed into stores on the first day of the winter sales on Wednesday but the crowd was thinner than previous years as economic worries and unusually cold weather held back many deal-hunters.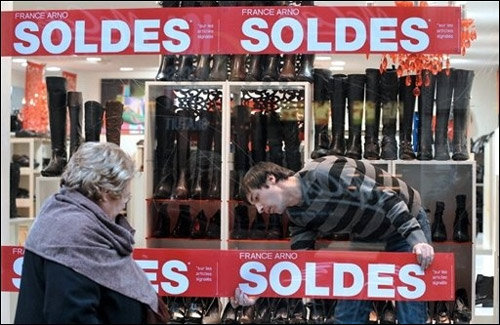 Photo : Pierre Andrieu/AFP
At fashion meccas Galeries Lafayette and Printemps (PRTP.PA), rows of shoes, coats and handbags from low-budget items to luxury brands Dior, Yves Saint Laurent and Miu Miu were on offer at discounts of some 30-60 percent.
Printemps said its 17 French stores achieved a 4 percent year-on-year rise in revenue on the first day of the sales this year, marking a slowdown from 6 percent growth last year.
No separate figures were available on Wednesday for its flagship store in Paris' Boulevard Haussmann, said a spokeswoman, adding that its stores in Metz and Nancy began their sales on Jan. 2.
Galeries Lafayette reported "slight growth" in revenue across its French stores, including in central Paris, "despite the strong disruption by the wave of cold".
Shoppers generally did not face huge struggles to reach the cashiers as queues remained short. But there were still some hurdles, with dozens of keen buyers forced to wait in line to enter the Gucci store at Galeries Lafayette and 20-deep queues in the Lafayette Homme menswear department.
"It's not as crazy as it usually is on the first day," said Cecile Coralle, 40, assistant to a director at Rothschild bank, who was buying two pairs of high-heeled shoes. "This time, I can find my size immediately whereas normally it's a battle."
Staff in the department stores also reported a calmer start to the sales this year than a year ago as shoppers faced temperatures as low as minus 9 degrees Celsius outside, though trading was still considered good.
"With the cold and the drop in spending power, I'm finding there are fewer people. There were 20 or so people this morning (at the opening). They weren't running like in previous years. It's calmer," said Virgile Boungou, of the Daniel Cremieux section in Lafayette Homme.
Winter sales started a few days earlier this year thanks to regulatory changes allowing more flexibility but will last five weeks as opposed to six weeks previously.
Retailers are keen to rake in as much cash as possible after lacklustre Christmas sales as they need to pay for stock for the spring/summer season items they have already ordered.
French consumer confidence sank in December as households worried that the sluggish economy would lead to a jump in unemployment and hurt their personal finance, national statistics office INSEE said on Tuesday.
The DJ Stoxx Retail Index .SXRP fell 44 percent in 2008.
Early data showed retail trading in France was exceptionally bleak in December, usually the strongest month of the year.
Many shoppers, braced for scenes of chaos, were surprised to see how easy it was to shop on Wednesday.
"It is quite civilised here compared to America, places like Macy's or Bloomingdale's where it's mad," said Helen Meagan, a New Yorker holidaying in Paris.
Jules David, 38, a sales executive at French railway operator SNCF from central Paris who was visiting the opening day of the sales for the first time, said he expected there to be more people and thought items were still expensive compared to other countries.
However, there were glimpses of over-exuberance as some bargain hunters stumbled on the escalators trying to reach the luxury menswear department at Lafayette Homme as the doors opened, said Sandrine Bourhy of the store's Sandro Homme section.
Many analysts expect this year's sales season will take its toll on margins as retailers are allowed to sell at a loss to get rid of excess stock following the bleak Christmas season.
But French Economy Minister Christine Lagarde was optimistic as the sales kicked off.
"The sales should be a really good success according to the numbers and indications we have at the moment," she said as she rummaged through discounted stilettos with journalists in tow.
(Editing by Elaine Hardcastle)
© Thomson Reuters 2023 All rights reserved.