Paris to host 'Global Department Stores Summit'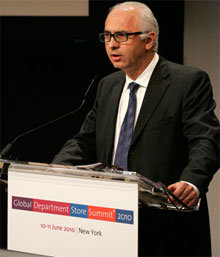 Paolo De Cesare, Printemps CEO, at the last summit inNew York (Photo by DR)
Paris has been selected as the host of this year's Global Department Stores Summit (GDSS), taking place on May 10-11 at the Georges Pompidou Centre. This will be the event's third edition, which took place for the first time in London in 2008 and then New York in 2010. After being co-organised with Selfridges in the British capital and later with Saks Fifth Avenue in New York, this year GDSS will be organised in cooperation with French department store Printemps. "Department stores have specific needs and, before this, they did not have a department store-focused discussion platform," commented GDSS manager Véronique Morelle. Organised by Intercontinental Group of Department Stores (IGDS), an association of department stores founded in Switzerland in 1946, GDSS allows senior executives and CEOs from department stores and their brands, as well as suppliers, vendors and major stakeholders, to come together every two years and discuss the latest developments relating to the department stores. In this exclusive circle of industry peers, one only finds the best of the world's department stores, with a long history, large surface areas and an international customer base.
The title of the summit is "Staying Relevant for Growth": according to GDSS' organisers, department stores have lately been taking into account changes in consumer behaviour and expectations, but they need to be prepared for the next ten years. The two-day event will be arranged into five key sessions: Pioneering Retail Style, The CEO Perspective, Delighting the Customer, What Makes Luxury, The Creative Edge. It will also feature talks from 19 CEOs, including Richard Lepeu (Richemont), Richard Girardot (Nespresso), Yves Carcelle (Louis Vuitton), Paolo de Cesare (Printemps), Peter Partma (from Russia's department store Tsum), Philippe Houzé (Galeries Lafayette) and Andrew Jennings (Karstadt). A tour around department stores in Paris will be available on Friday afternoon once the event is over.
IGDS also organises World Department Stores Forum, which took place in 2009 in Moscow and Shanghai in 2011. On its 60th anniversary, the association comprised 33 members from 31 countries.
Click here
to sign up to Global Department Stores Summit 2012.
Copyright © 2023 FashionNetwork.com All rights reserved.