Pao de Acucar and Carrefour in merger talks
May 24 - France's Carrefour and Brazilian retailer Grupo Pao de Acucar have been talking for more than a month about merging their units in Latin America's biggest economy, the newspaper Valor Economico said on Tuesday.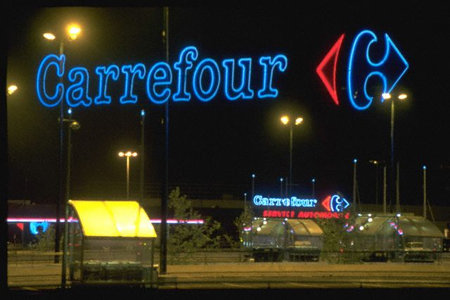 Carrefour logo (Photo: Corbis)
The rivals could seek to merge their supermarket and hypermarket units, Valor reported, without saying how it got the information. Carrefour and the Diniz family, one of Pao de Acucar's two controlling shareholders, could agree to a share swap to seal the transaction, Valor said.
Pao de Acucar shares fell on Tuesday, reflecting worries that the Sao Paulo-based retailer could bid for Carrefour's Brazil unit and encounter regulatory and minority shareholder opposition to a deal.
Pao de Acucar shares shed 2 percent to 65.72 reais, their first decline in four sessions. Carrefour erased early gains and was flat at 30.27 euros in late-afternoon trading in Paris.
Combining the two companies could help lower fragmentation in a market 60 percent controlled by the 10 biggest retailers.
Speculation about a tie-up between the two fierce rivals comes a year before Casino (CASP.PA), Carrefour's rival in France and the other controlling shareholder in Pao de Acucar with a 35 percent stake, and the Dinizes have to discuss Casino's option to take full control of Pao de Acucar. The option becomes valid in June 2012.
"Our key conclusion is that if Grupo Pao de Acucar bids for Carrefour, there are short-term risks associated with its more leveraged balance sheet and not strong free cash flow generation," UBS retail analyst Gustavo Piras Oliveira wrote.
SCALE GAINS
Pao de Acucar is controlled by Chairman Abilio Diniz and his family and Casino via an investment holding company called Wilkes. Wilkes owns about 66 percent of Grupo Pao de Acucar's voting shares.
Casino told Reuters it had not given the go-ahead for the Dinizes to start negotiations.
French newspaper Le Figaro reported on Tuesday that Casino had never been informed of negotiations between Pao de Acucar and Carrefour.
A merger would give the retailers a combined 28 percent market share in Brazil, Bank of America Merrill Lynch analyst Robert Ford said in a report on Monday. Cost savings could top $1 billion a year after tax procurements and the reduction of business overlaps, he estimated.
Local investment banking company Estater Gestao e Financas is advising Pao de Acucar on the talks, while Lazard & Co is representing Carrefour, according to Valor.
The retailers declined to comment on the Valor report. Estater, a long-time Sao Paulo-based financial adviser to the Dinizes, declined to comment when contacted by Reuters.
According to Valor, Pao de Acucar would be interested in joining forces with Carrefour to gain scale and offset an erosion in profit margins since it entered the home appliances business. The new company would be nearly three times the size of Wal-Mart Stores Inc's Brazilian operations, Ford said.
Carrefour lost its No. 1 spot in food retailing to Pao de Acucar almost two years ago as the Brazilian retailer trimmed costs, boosted its negotiating clout with suppliers and expanded into home appliances.
Carrefour sold a stake in its local consumer finance unit last month to help cover some of the $250 million in losses it incurred due to uncollected rebates and inventory write-offs in view of poor hypermarket sales.
Investment funds Colony Blue and the Arnault group, two key Carrefour shareholders, were pressing management at the French giant to exit businesses or look for an association to kick-start its flagging performance, Valor reported.
Analysts consulted by Valor were at odds over the deal. While some defended the talks as a way to gain muscle in an ever growing market, others said it would distract Pao de Acucar management from integrating the two home appliance units it bought over the past two years.
(Reporting by Guillermo Parra-Bernal; Additional reporting by Dominique Vidalon in Paris and Vivian Pereira in Sao Paulo; Editing by Maureen Bavdek and John Wallace)
© Thomson Reuters 2023 All rights reserved.