PacSun's weak holiday quarter forecast pulls down shares
BANGALORE, Nov 16 (Reuters) - Teen-clothing retailer Pacific Sunwear of California Inc (PSUN.O) posted a strong third quarter, but saw demand fall off a cliff in recent weeks, sending the stock tumbling 20 percent in trading after the bell.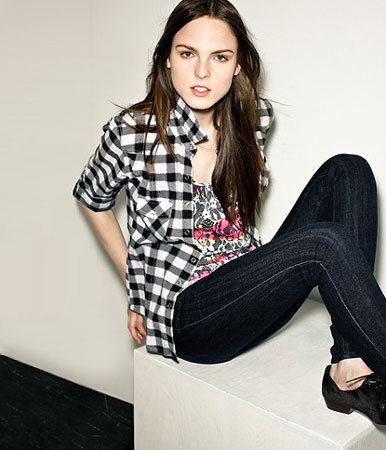 Skinny jeans at Pacific Sunwear
"(We saw) a precipitous decline across both genders during the last two weeks of the third quarter and into the first two weeks of the fourth quarter," Chief Executive Gary Schoenfeld, who is leading a revamp of PacSun's business, said. In the all-important holiday quarter, the company expects same store sales to fall in the low twenties percentage range.
In a conference call with analysts, Schoenfeld said that sales trends were weak almost across the country, and that the company is currently running more stores than is needed.
"I don't know that the world ever needed 900 domestic PacSun stores," the CEO said.
PacSun, which buys merchandise from companies like Volcom Inc (VLCM.O), said it expects to report a loss of about 28 cents to 35 cents a share in the fourth quarter, while analysts were looking at a loss of 11 cents, according to Thomson Reuters I/B/E/S.
"Warmer-than-planned-for weather thus far in the fourth quarter has led to a soft forecast on the bottom line," analyst Brian Sozzi of Wall Street analytics said in a note.
Increased promotional activity among peers is also expected to create additional challenges, the CEO added.
For the third quarter, the company lost $10.9 million, or 17 cents a share, compared with market estimates of a loss of 20 cents.
Net sales came in at $268 million in the quarter, compared with analyst expectations of $260.1 million.
PacSun shares were trading at down 20 percent at $4.00 in trading after the bell, after closing at $5.01 Monday 16 November on Nasdaq.
For alerts, double click on (Reporting by Nivedita Bhattacharjee in Bangalore; Editing by Maju Samuel, Anthony Kurian)
© Thomson Reuters 2023 All rights reserved.