Pac Sun plunges after weak outlook; downgrades
Aug 22 (Reuters) - Pacific Sunwear of California Inc shares plunged more than 35 percent to their lowest ever level after a weak second half 2008 forecast prompted a slew of brokerage downgrades on the teen-apparel retailer's stock.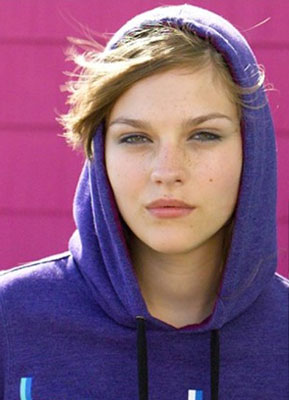 Pacific Sunwear of California advertising campaign
Retailers such as Pacific Sunwear have struggled with sluggish sales as U.S. consumers become increasingly reluctant to shop for non-essentials in the face of higher food and fuel prices, falling home values and tighter lending conditions.
Friedman Billings Ramsey's apparel retail analyst Adrienne Tennant said business trends had worsened more than expected and cut her rating on the stock to "market perform" from "outperform".
Given the brokerage's bearish view on this year's holiday sales it was advisable to stay on the sidelines till it was clear that the company can weather the storm, Tennant said.
Pacific Sunwear's depleted cash reserves due to a recent stock buyback, inventory build-up and slowing comparable sales were causes for concern, Tennant added.
Citigroup analyst Kimberly Greenberger said continued comparable sales pressure, flat square footage growth and deteriorating profitability could drive stock price weakness at Pacific Sunwear and maintained a "sell" rating on the stock.
Shares of the company were trading down more than 25 percent at $5.80 in afternoon trade on Nasdaq after reaching an all-time low of $5 earlier in the session.
Following are the ratings and price target changes made by the brokerages on Pacific Sunwear today: Brokerage Rating Price target
New Old New Old Friedman Market Perform Outperform $6 $10 Robert W Baird Neutral Outperform $8 $13 S&P Equity Sell Hold $5 $8.50 Citigroup Sell -- $6 $8 Wedbush Hold __ $6 $10 (Reporting by Antonita Madonna Devotta in Bangalore)
© Thomson Reuters 2023 All rights reserved.