Pac-Man the muse for London designer Giles Deacon
LONDON (Reuters) - Giles Deacon, one of Britain's most talked-about fashion designers, stunned audiences at London Fashion Week on Tuesday with a collection that took as its inspiration the 1980s computer game Pac-Man.
Deacon, who launched his Giles label in 2003 and has also designed for Daks, is known for pushing boundaries on the catwalk and for challenging traditional ideas of womenswear.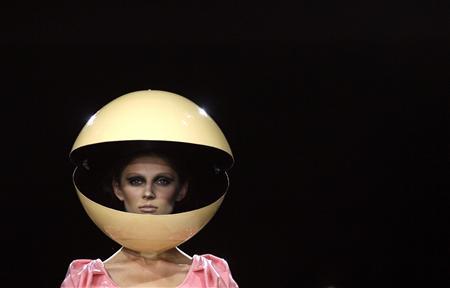 A futuristic, sci-fi thread ran through the 37-outfit collection, which included billowing, show-stopping gowns.
Deacon's show bucked the trend for floaty fabrics, ultra-feminine lines, high-waisted trousers and muted colours seen at many other collections showcased at Fashion Week.
British model Erin O'Connor was in the audience.
"I'm still quite reeling, to be honest. It was an awful lot to take on board. It was extraordinary and I loved the playful Pac-Man references," O'Connor told Reuters after the show.
Christopher Kane, another young British favourite, sent large circles of fabrics on silky blouses, elegant opaque shift dresses and oversized sequins down the runway on Tuesday.
Like Paul Smith, Ossie Clarke and Julien Macdonald, who all showed this week, Kane's colours were either muted, block or earthy, with gentle and sharp tailoring.
Deacon's collection, on the other hand, was largely monochrome with flashes of silver lame and PVC -- sometimes quilted -- or bright blocks of turquoise, peach and red, reminiscent of TV sci-fi show "Lost in Space."
Shapes were strong and cut a sharp silhouette against the brightly-lit venue.
Models sported oversized spherical helmets in the shape of Pac-Man and the character was embellished on many of the dresses, some of which were made from grey and monochrome camouflage fabric.
"The helmets looked incredibly heavy -- I did sort of feel for the models," O'Connor added. "He's (Deacon) quite incomparable ... it is so new and it isn't ever really seen around by any other designers."
(Reporting by Golnar Motevalli; Editing by Catherine Evans)
© Thomson Reuters 2023 All rights reserved.