P&G floats selling products on its own website
CHICAGO (Reuters) - Procter & Gamble Co plans to introduce its own website this month to sell goods directly to consumers and to work on improving its relationships with established online retailers such as Wal-Mart Stores Inc and Amazon.com Inc.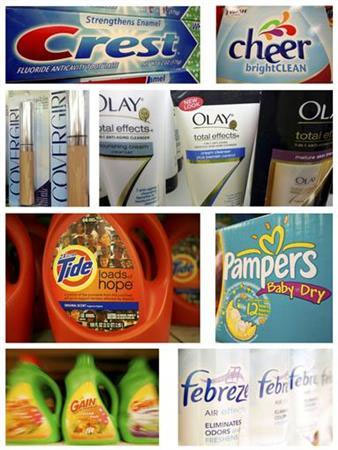 Procter & Gamble
P&G's "eStore" will be owned and operated by e-commerce service provider PFSweb Inc, which will control prices, promotion, and distribution. Only U.S. shoppers will be able to buy the products.
Shares of PFSweb were up 97.14 percent at $3.45 in afternoon trading.
P&G's Chief Executive Bob McDonald said last August that the company wanted to increase its online sales "substantially" over the next few years.
Online sales accounted for about $500 million, or 0.6 percent, of P&G's fiscal year 2009 sales of $79 billion.
P&G plans a full scale launch this spring, after a pilot test with 5,000 consumers starting in the next few weeks.
The "eStore" marks the first time the world's largest household products maker will have a broad online retail strategy.
P&G has a small presence in e-commerce through some of its brands and through a site that Gillette built about 10 years ago, before it was bought by P&G. Still, most online sales of its products are done through others such as Walmart, Amazon.com and Alice.com.
Household goods such as P&G's Tide detergent, Pampers diapers and Pantene shampoo are heavy or bulky, so shipping costs can be high for low-priced items.
Also, consumers want to replace some products, like toilet paper, at stores instead of waiting for a shipment.
Brian Wiegand and Mark McGuire, who launched Alice.com last June, said they expect every consumer packaged goods company to have an online store or a plan for one by the end of 2010.
"It's a trend that's way overdue. It's way behind the other industries," Wiegand said on Friday 15 January.
P&G said it had spoken with others selling its products online to make sure they understand the company aims to increase sales for itself and retailers.
P&G aims to run the eStore like a "learning lab" to help gather information about online purchases. The site will test subscription models as well as using social media.
"I don't think P&G or other manufacturers are done with exploring the different ways that they're going to try to go direct to consumers," McGuire said.
Alice.com, which is not involved with P&G's plans, is starting to run online storefronts for others, such as General Mills Inc's Nature Valley granola bars.
P&G said it does not expect its new online venture to impact www.theessentials.com, which Gillette started to sell hard-to-find parts for its products, such as Braun electric razors and Oral B battery-powered toothbrushes. That site, owned and run by The Field Cos Inc, has added other P&G products since P&G bought Gillette back in 2005.
(Reporting by Jessica Wohl; Editing by Derek Caney, Toni Reinhold)
© Thomson Reuters 2023 All rights reserved.