Overseas growth boosts Casino as France slows
PARIS | Wed Oct 12, 2011 - Casino (CASP.PA) reported a slowdown in sales growth in its main French market on Wednesday, joining the ranks of European retailers to warn consumers are reining in spending against an uncertain economic backdrop.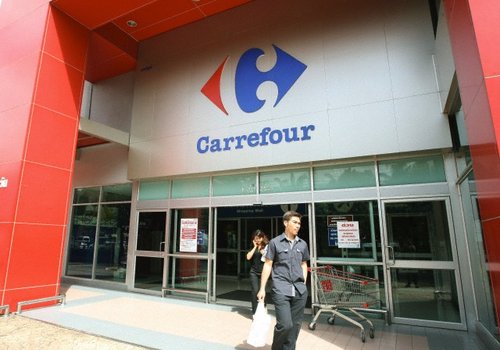 Photo: Corbis
Casino, which competes with Carrefour (CARR.PA) and privately held French retail chains Leclerc, Intermarche and Auchan, said on Wednesday it was able to offset the slowdown thanks to strong growth and acquisitions in emerging markets.
Casino finance chief Antoine Giscard d'Estaing told analysts he saw no reason to change the group's expectation that trading profit in France this year would be similar to 2010's level.
Trading at the start of October had showed positive trends in all geographies, he added on a conference call.
"As of today we are on line with our objectives, we need a good end of the year," he said.
Third-quarter sales jumped 21.2 percent to 8.71 billion euros ($11.9 billion), broadly in line with the 8.72 billion forecast in a Reuters poll of 11 analysts.
Retailers are mostly struggling in Europe as disposable incomes there are squeezed by rising prices, subdued wage growth and government austerity measures.
Tesco (TSCO.L), the world's third-biggest retailer, last week posted one of its biggest-ever quarterly falls in underlying sales in its main British market.
Casino, with a network of around 10,000 stores in 10 countries, said it was protected by its expansion abroad.
International sales climbed to account for 46 percent of group sales in the third quarter from 37 percent a year ago, helped by acquisitions in Brazil and Thailand, new store openings and a strong performance from existing outlets.
Underlying sales growth in France, however, slowed to 1.2 percent excluding fuel, down from 2.2 percent in the first half and due in part to a 7.3 percent drop in sales of discretionary non-food goods at the group's Geant hypermarkets.
Casino tied part of the decline in non-food sales to exceptionally warm weather in September in France that weighed on textile sales.
That drop could increase jitters ahead of third-quarter sales figures from bigger rival Carrefour on Thursday.
CARREFOUR WORRIES
Carrefour, the world's second-biggest retailer behind Wal-Mart (WMT.N), makes a larger proportion of sales from hypermarkets than Casino, which also has a strong presence in faster-growing convenience stores and Internet retailing.
Carrefour is also exposed to other western European markets like Spain, Belgium and Italy, where consumers -- like in France -- are struggling.
Casino reiterated a target to grow annual sales by over 10 percent over the next three years.
Giscard d'Estaing also said he was "comfortable" with forecasts from analysts who banked on a full-year profit of 1.540 billion euros.
Casino reiterated a target to raise more than 1 billion euros from asset sales this year as it looks to reduce debts.
Another goal is to keep its net debt to EBITDA (earnings before interest, tax, depreciation and amortization) ratio below 2.2 times at the end of 2011.
Casino shares closed up 2.7 percent at 61.49 euros on Wednesday. The stock has underperformed the STOXX Europe 600 retail index .SXRP by 5 percent this year, but fared better than Carrefour which has trailed same index by 28 percent.
By Dominique Vidalon
(Additional reporting by Mark Potter, Editing by Christian Plumb, Helen Massy-Beresford and Bernard Orr)
© Thomson Reuters 2023 All rights reserved.