Our key clients don't queue for the sales: Versace
By Marie-Louise Gumuchian
MILAN (Reuters Life!) - Luxury fashion brand Versace dismissed the idea that its core customers would queue for bargains at post-Christmas sales in Italy's fashion capital.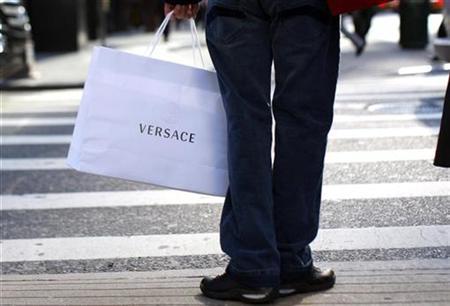 "Our regular client was not queuing on January 3-4 in Milan or Rome but was on the slopes in St Moritz or on a boat in the Caribbean," Giancarlo Di Risio, CEO of the celebrity-favored designer, said in comments published in Italy's financial daily Il Sole 24 Ore on Thursday.
As in other fashion capitals, bargain-hunters in Milan have been flocking to shops for discounts since the winter sales period began on January 3.
Versace is holding sales like other fashion brands such as Dolce & Gabbana, Armani, Roberto Cavalli and Gucci, whose price tags have been slashed by 40 percent, some up to 50 percent.
"Fifty percent off a Valentino handbag is exactly what I am looking for," housewife Maria Cristina, 33, said as she eyed the accessories floor at department store chain La Rinascente. "I've had my eye on it for a while and now is the time to get it."
Shop assistants at several stores here said the sales had gotten off to a good start. Queues of cars were even seen at the motorway exit for one fashion outlet at the weekend.
"It was a very good start, we had an optimal response and not only at our flagship (Milan) store," said Alberto Baldan, director general at La Rinascente.
However, since the start of the week, sales have been slightly subdued, others said, because of the cold weather.
"Saturday was very busy as it was the first day and people wanted to grab the best items, but since then, it's calmed down a little. However I think the sales will hold up for a while," a shop assistant, who declined to be named, said.
EARLY SALES
Even before the current winter sales period, a strong pick up in promotional sales at the end of last year also included luxury brands, with some holding discreet "private sales."
"In Via Montenapoleone or in Via Condotti, you could already buy goods at half price in mid-November," Di Risio said, referring to exclusive shopping streets in Milan and Rome.
"This ... policy is ruining a market, which given that it is at the high end, should be more protected ... For me fans of sales are different to regular buyers."
Di Risio said Versace, which also makes made-to-measure helicopter interiors for its wealthiest admirers, was not cutting list prices in Italy or other places.
"If I lower the price of an evening gown from 7,000 euros to 5,000 euros, or that of a couture collection bag from 2,300 euros to 1,700 euros, it doesn't change much," Di Risio said.
"But for those who lower the price of a bag by the same percentage and sell it in a shop for 500 euros, then the music changes. But ... we want to offer a real luxury and not to open our doors to the consumption of young girls who can put the designer handbag of their dreams on their arm with less than 300 euros. We are not interested in that."
Luxury brands have not been spared by the downturn and Di Risio said: "Everyone will suffer, no one is excluded."
Despite the tough economic climate, tourists whose numbers have fallen in recent months, were still seen laden with designer shopping bags on Milan's Via Montenapoleone.
"The bad weather won't stop us shopping in Milan, especially during sales time," Katya, a Russian tourist, said.
"Weather permitting, even though we had a good day yesterday despite there being less cars on the roads, we expect a good sales operation," La Rinascente's Baldan said.
(Editing by Paul Casciato)
© Thomson Reuters 2023 All rights reserved.