Online, luxury escape French winter sales blues
Jan 17 - Online retailers and the luxury sector looked set to buck the trend for an anaemic start to the French winter sales.

Upscale department store Printemps and several French online retailers reported a positive start to the five-week discount season, contrasting with revenue dips at apparel and homeware stores.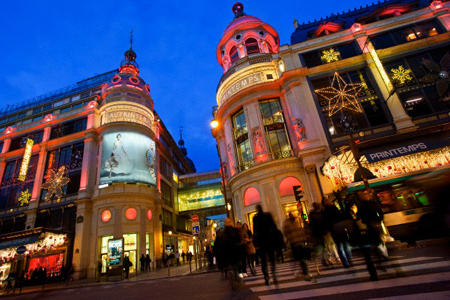 Le Printemps department store on Haussman Boulevard, Paris
"It's off to a slow start and I think we will be in negative ground," said Jean-Marc Genis, head of the FEH clothing retail federation, which represents chains including Etam, Zara and Gap. He said first-day revenue was down 4 percent year-on-year.
"The overall morose economic climate is playing a role...We are not headed for a very good vintage," he added.
The real climate also likely played a role, with severe winter weather in December meaning many shoppers have already bought winter items like coats. The first weekend of the sales season was also particularly mild this time around.
"Overall, for Paris there is less traffic than last year," said Claude Boulle, head of the UCV union that represents stores such as Galeries Lafayette and Habitat. "(But) there is a real contrast between Paris and regional areas," he added, citing a rise in department store sales in regions.
Charles Melcer, President of the Federation Nationale de l'Habillement (FNH), which regroups nearly 45,000 independent clothing stores, was also downbeat.
"It's not exceptional. It's going to be an average year. It's rather soft and for some stores it's below last year," he said. Melcer had yet to review weekend data.

ONLINE, LUXURY MORE UPBEAT
Competition from online retailers is also having an impact with the French e-commerce federation Fevad reporting comparable sales up 11 percent year-on-year on Jan. 12, the first day of the sales.
The trend was similar to last year's.
"It's a good increase but nothing to be triumphantly euphoric about. It's not an exceptional growth for a sector which is expanding," Fevad President Marc Lolivier said.
PIXMania, DSG International's French online retail arm, said it recorded over 1 million unique visitors on Jan. 12, a 25 percent rise year-on-year.
At the Printemps Haussmann department store in Paris, which repositioned its offering last year on luxury items, CEO Pierre Pelarrey said sales for the Jan. 12-15 period were up 6 percent.
This was a "rather good performance from last year which was stable," he added.
This was fuelled by strong demand for accessories and from international customers, notably Chinese, Japanese and Russians.
A study on living standards suggested 53 percent of consumers now regard the sales as a budgetary necessity, up from 47 percent in 2005 before the financial crisis unfolded.
By Pascale Denis and Dominique Vidalon

© Thomson Reuters 2023 All rights reserved.