Obama brings change ... of wardrobe
NEW YORK, Nov 18, 2008 (AFP) - Barack Obama promised to bring change and may just succeed -- at least in the way Americans dress.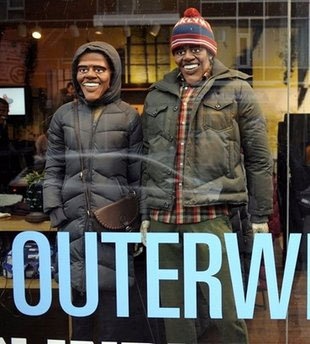 Store mannequins with masks of Barack Obama in New York
Photo : Timothy A. Clary/AFP
The 47-year-old president-elect promises to fix the economy, withdraw from Iraq, and catch Osama bin Laden. If nothing else, he'll go down as the man who returned elegance to the White House.
"He's incredibly well turned out and looks a lot less than 47," Robert Johnston, associate editor at the British fashion magazine GQ, told AFP.
"He's got an effortless style. The only other American president you can imagine on the cover of a fashion magazine is Bill Clinton. It's that sort of stylishness you can't put your finger on. It just looks right.
Statesmen can make powerful, if sometimes unlikely fashion leaders.
Some claim a hatless president John F. Kennedy killed the once near universal practice in the United States of wearing a fedora.
More recently, President Mahmoud Ahmadinejad's trademark beige jacket became a hit with fellow Iranians, while Prime Minister Vladimir Putin's black raincoats fuel KGB nostalgia in Russia.
Obama, so far, has not made any wardrobe item his own.
He got attention this month in urging youths to abandon prison-style baggy, buttocks-baring jeans.
But fashion watchers say the key to Obama is not so much what he wears as how.
Tyler Thoreson, executive editor at men.style.com, says Obama's suits hang almost perfectly on a gym-trimmed body, unlike the ill-cut clothes common to men of President George W. Bush's generation.
This creates a modern, yet sober image appropriate to these perilous times and a stark change from Bush's championing of cowboy boots and Stetsons.
"It's a simple thing: his suits are actually tailored to fit him, whereas most middle aged men are swimming in extra fabric," Thoreson said.
Another telling detail, Thoreson points out, is Obama's preference for the "jaunty" four-in-hand tie knot, rather than the more formal Windsor or half-Windsor.
"He's very comfortable with himself physically and emotionally ... and that's one of the key things that makes him appealing in a tough time," Thoreson said. "He's absolutely going to have a big impact on the way men dress."
On New York's 5th Avenue, home to Prada, Escada, Gucci, Louis Vuitton and other fashion temples, Obama gets the thumbs up.
"He seems elegant, while not being fancy. It's about his personality, it's about the way he carries himself," said Emilia Severino, 23, an immaculately dressed shop employee.
Resplendent in oversized sunglasses, pink T-shirt, loud tweed jacket and gelled hair, student David Schiffhauer also approved Obama's sartorial savvy.
"He's different to other presidents. They were more formal. I mean, we've seen him in a swimsuit and he looks good," Schiffhauer said. "He's smart, but not super formal -- casual but smart."
Fashionistas say Obama only flops when it comes to home wear.
A snarky New York Times article claimed Obama's white tennis shoes, tucked in shirt with jeans, and windbreaker left him resembling comedian Jerry Seinfeld in his famous TV series.
But for Mike England, a 26-year-old banker visiting New York from Britain, Obama has the magic that can make an icon.
"It's not so much his dress sense as his personality. He's like Tony Blair when he first came in as prime minister -- young and full of ideas and that's what really makes him fashionable.by Sebastian Smith
Copyright © 2023 AFP. All rights reserved. All information displayed in this section (dispatches, photographs, logos) are protected by intellectual property rights owned by Agence France-Presse. As a consequence you may not copy, reproduce, modify, transmit, publish, display or in any way commercially exploit any of the contents of this section without the prior written consent of Agence France-Presses.