NYC gains tourists, as foreign shoppers delight
By Edith Honan
NEW YORK (Reuters) - During a weeklong visit to New York City, Rosa Costa on Monday was stocking up on cosmetics, Levi's jeans and designer sunglasses, items that she said are "much cheaper" here than in her native Spain.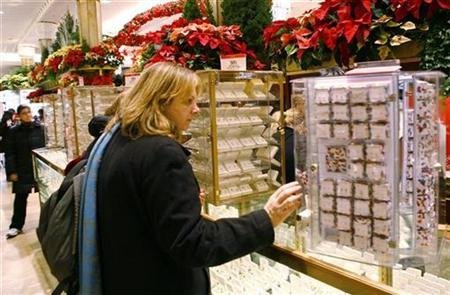 "Everything is much cheaper for us now," said Costa, 51, a painter from Valencia. "It's great to come to New York, go to museums, and then to do some shopping, of course."
Encouraged by the weakened dollar, a record number of visitors came to New York City in 2007, spending around $28 billion, city tourism officials said on Sunday.
Some 46 million people, including 8.5 million foreigners, visited New York City in 2007, a 5 percent increase over 2006, when 43.8 million visitors came to the city.
Tourism fell after the September 11, 2001 air attacks, but the latest figures showed one of the city's most important industries has rebounded.
"Competition is fierce in today's global economy, and for some time America has suffered from negative impressions that exist worldwide," Jonathan Tisch, chairman of NYC & Company, the city's tourism arm, said in a statement.
NYC & Company, added nine international offices in 2007, bringing the total to 16 locations. It also launched two campaigns -- Just Ask The Locals, which portrays New Yorkers as friendly and approachable, and This Is New York City, a global communications campaign.
Mayor Michael Bloomberg, who has set a goal of attracting 50 million annual visitors by 2015, credited a steady decline in violent crime for making New York more popular.
"Our neighborhoods are cleaner and safer than ever before," he said on his Sunday weekly radio broadcast. "Our city's crime-fighting gains are breaking records and outpacing national trends," he said, adding: "Who can blame so many people for wanting to visit New York?"
While many international visitors approached by Reuters said they were unaware of the crime statistics, at least a few visitors from other U.S. cities said that New York had largely escaped its "seedy" reputation.
"This is a very different city now," said Tim Reardon, 49, a director of a non-profit organization in Minneapolis, who has been a regular visitor for two decades.
Tourism rose in 2007 despite several unexpected blows, including a 19-day strike by Broadway stagehands that shut down most Broadway shows during the holiday season.
(Editing by Jan Paschal)
© Thomson Reuters 2022 All rights reserved.