NY designers get creative to battle recession
By Jan Paschal
NEW YORK (Reuters) - With recession ripping a hole in the U.S. retail industry, designers are struggling to come up with clothes women feel they can't do without as they unveil their collections at New York's fashion shows this week.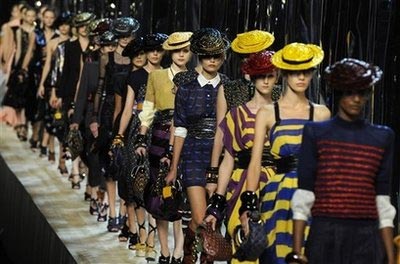 Marc Jacobs collection spring-summer 2009
Designers at the semi-annual Fashion Week face the dual challenges of trimming their own spending on the shows while enticing penny-pinching buyers and consumers to boost their spending.
"We're counting on the industry to step up with something new," said Pete Nordstrom, president of merchandising for the upscale Nordstrom Inc department stores.
Some 70 designers are showing their collections in giant tents in Manhattan for Fashion Week, which kicks off Friday. Other designers are showing collections throughout the city.
They face sinking U.S. retail sales and a devastating credit crunch, while U.S. job losses last month were the worst in 34 years. On the buying front, the International Council of Shopping Centers estimated 148,000 retail stores closed last year and another 73,000 would shut in the first half of 2009.
"Right now, it's like you're in the middle of a tsunami," said designer Diane von Furstenberg, who heads up the Council of Fashion Designers of America.
A solution, she said, is to make clothes highly appealing.
"You need to show clothes that are real friends to women, so that 'friend' will make you feel good when you open your closet," said von Furstenberg, whose flattering wrap dresses put her firmly on the fashion map in the 1970s.
Many designers are opting for lower-cost presentations -- installations where guests wander among models who are fixed in place -- rather than high-priced runway shows.
A runway show at Fashion Week's tents typically costs $100,000 to $250,000 or more, a show in a smaller venue such as a gallery could cut the cost in half and a still presentation in a designer's showroom could be most economical of all.
Some design houses opting for presentations over shows are Betsey Johnson, Nary Manivong, Reem Acra, Luca Luca, Joanna Mastroianni, Temperley and Generra.
Others are headed to smaller spaces. Carmen Marc Valvo, whose gowns are celebrity hits, estimates saving as much as $150,000 by showing in a nightclub, with mannequins, a video presentation and just two models.
Designer Marc Jacobs is turning his belt-tightening into a status plus -- by slashing his show to 500 guests from 2,000, his coveted invitations are all the more valuable among the thousands of fashionistas vying to get in.
DEPRESSION ECHOES
Others are using the hard times as inspiration. Catherine Malandrino is showing cocktail dresses in the Rainbow Room, an Art Deco-style nightspot that first opened in 1934.
"I chose the Rainbow Room because it was a room born in a certain time, in the depth of the Great Depression," Malandrino said, noting she will brighten up her event with "some Champagne, some romance, some glamour and some music."
Von Furstenberg is hosting her own runway show and a second show for American Express, which is charging its cardholders $150 apiece for tickets online, featuring not only looks for fall but for nearer-term spring and summer.
That strategy breaks from the traditional cycle of looking far ahead -- this week's shows are Fall 2009 collections -- and seeks to appeal more immediately to consumers.
The twice-a-year Fashion Week shows inject some $773 million into New York City's economy and support 175,000 fashion industry-related jobs, according to city officials.
But the affluence that backs much of the industry has taken a hit with the hammering of Wall Street that is the core of much New York City wealth.
Candace Corlett, president of WSL Strategic Retail consulting firm, said she is seeing a "values correction" among affluent consumers.
"We're hearing consumers tell us, 'I used to care about designer brands and now I don't,'" she said.
Fern Mallis of IMG Fashion, which runs Fashion Week, jokingly proposed a theme song: "We might have to play the Bee Gees' song all week. It's called 'Stayin' Alive.'
(Editing by Ellen Wulfhorst and Frances Kerry)
© Thomson Reuters 2023 All rights reserved.