NexCen sells Bill Blass brand for $10 mln; shares soar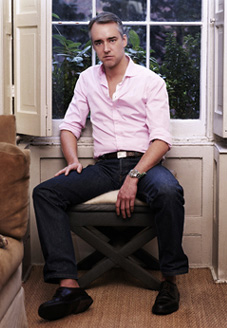 Bill Blass fall-winter 2008/2009 menswear
Dec 29 (Reuters) - NexCen Brands Inc (NEXC.O) sold its Bill Blass apparel brand to Peacock International Holdings LLC, a men's dress shirt and neckwear firm, for $10 million to repay debt related to the business.
The news of the deal gave a new lease of life to NexCen shares, sending them up as much as 157 percent. Before Monday's gains, the stock has fallen 98 percent year to date.
The company, which acquires and manages global brands generating revenue through licensing and franchising, said the sale of Bill Blass was part of its efforts to divest certain non-core assets and focus on its franchising business.
NexCen's franchised labels include ice cream brand MaggieMoo's and retail footwear and accessories brands The Athlete's Foot and Shoebox New York. NexCen bought the Bill Blass designer brand in late 2006.
Earlier in the year, NexCen had expressed doubt about its ability to continue as a going concern. It also slashed jobs and sold its Waverly furnishings business to streamline operations and boost liquidity.
In connection with the Bill Blass sale, NexCen amended its existing credit facility with BTMU Capital Corp, the company said.
In a regulatory filing, NexCen said the proceeds from the Bill Blass sale were not sufficient to repay the entire debt or to fully redeem the original note issued under the credit facility.
As a result, the remaining $14.2 million on the note that was related to the Bill Blass licensing business was converted into a deficiency note that bears an interest rate of 15 percent, it said.
Shares of NexCen touched a high of 19 cents, before paring some gains to trade up 128 percent at 17 cents in morning trade on Nasdaq. (Reporting by Dhanya Skariachan in Bangalore; Editing by Pratish Narayanan, Vinu Pilakkott)
© Thomson Reuters 2023 All rights reserved.