Newlywed Hurley parties on in India
By Jonathan Allen
JODHPUR, India (Reuters) - Actress Elizabeth Hurley and her new husband flew into the historic city of Jodhpur on Wednesday, midway though a week of lavish parties that have already run into trouble with Indian authorities.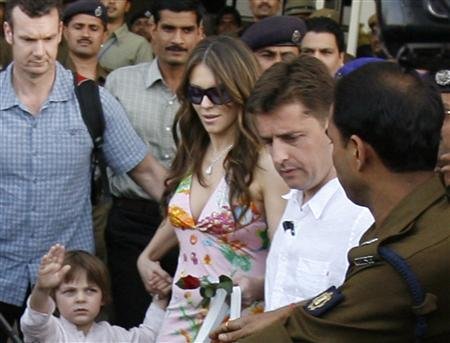 Hurley, 41, and Indian businessman Arun Nayar, 42, arrived with about 240 guests and truckloads of expensive Louis Vuitton luggage for three days of entertainment.
They are taking over the desert city's hill-top Umaid Bhavan Palace for traditional Indian celebrations after a civil marriage at an English castle and celebrations in Mumbai.
The visit was earlier immersed in controversy after Indian authorities tore down part of a venue built to host a wedding party in Mumbai because it infringed on a popular beach.
Hurley, wearing sunglasses and a pink dress, arrived at Jodhpur airport accompanied by Nayar and her young son Damian.
Journalists and cameramen besieged their Bentley, which drove off accompanied by at least three police vehicles and another car for the couple's private security team.
Guests include designer Tom Ford, Princess Marie-Chantal of Greece and Evelyn Lauder, the daughter-in-law of cosmetics company founder Estee Lauder.
"They're not sleeping very much because there are so many parties," Lauder told reporters at the airport, referring to the newlyweds. "We don't go to bed till four-thirty in the morning."
The 347-room Umaid Bhavan Palace's decor has been described as "somewhere between Art Deco and non-ironic 1970s gangster chic" by the Lonely Planet guidebook. It was completed in 1943 and claims to be one of the largest residences in the world.
A slideshow in the palace museum shows black-walled rooms furnished with pink sofas and beds with large ceiling-height mirrors for headboards.
The couple have tried to keep details of their celebrations out of the media, but details have trickled out.
Indian designer Rohit Bal told Reuters on Tuesday that he had designed Hurley's outfit for Thursday's ceremony -- and all the clothes for Nayar.
"They will look absolutely fabulous, trust me," he said.
HENNA TATTOOS
Hurley will wear a Bal-designed white and silver lehenga -- a flowing Indian skirt -- while Nayar will wear an orange kurta or collarless shirt, a source involved in the wedding told Reuters.
Hurley will also wear clothes by Versace, John Galliano and Valentino during the celebrations, the source told Reuters on condition of anonymity because staff have been banned from talking to the press.
Guests were expected to join Hurley later on Wednesday in a mehendi ceremony, where the women's hands and arms are decorated with intricate temporary henna tattoos.
A cricket match between the bride and groom's parties is also planned.
White horses, elephants and Rajasthani folk dancers will all play their part in the celebrations, according to media reports.
And on Friday, tourists will be turned away from the massive centuries-old Meherangarh Fort, where guests will wrap up the celebrations feasting high above the city.
(Additional reporting by Prithwish Ganguly in New Delhi and Reuters Television)
© Thomson Reuters 2023 All rights reserved.