New York Fashion Week tries on "green"
By Rebekah Kebede
NEW YORK (Reuters) - New York Fashion Week is the place to spot new trends and, if this season's event is any indication, going green is definitely in style.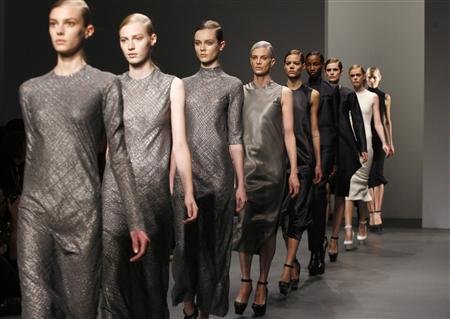 Sponsor Mercedes-Benz aimed for the semi-annual event to be carbon neutral for the first time, and several of the designers unveiling fall and winter 2010 collections emphasized organic materials and sustainable designs.
Mercedes-Benz said it bought enough carbon offsets to have net zero carbon emissions at the huge tents erected in Manhattan's Bryant Park, where many of the shows are staged and require power and heat.
"Fashion is using a lot of fuel and heat. It's a win-win all around," said Fern Mallis, senior vice president of IMG Fashion which organizes the event.
Some observers noted a greener Fashion Week is a sign that ecological consciousness is no longer a fringe interest.
"This whole issue of sustainability has become very mainstream now," said Patti Pao, founder of the New York City-based market research firm Pao Principle.
"It's become something that is sort of chic and OK to talk about, and so the fashion industry has embraced that and has really taken that cause ... under their wing," she said.
SOCIALLY CONSCIOUS CLOTHING
Green chic was evident on the runways, where designers showcased sustainable design from the recycled metal jewelry of Native American Maria Samora to c. marchuska's ecologically and socially conscious clothing line.
The New York City Department of Environmental Protection partnered with Aveda, maker of skin and hair products, to help reduce consumption of bottled water by setting up tap water stations for Fashion Week attendees.
The green effort was not without its critics.
Dahlia Algunaim, visiting Fashion Week from her home in California, said she was puzzled by most of the tap water stations that were located several blocks from the shows and posed a painful walk for someone like her, clad in tall boots.
"I wouldn't walk six blocks to have tap water... not in these shoes," she said.
RUM, COOKIES, DRY SHAMPOO
Others suggested designers send invitations via email, rather than paper, and noted many of the goodies given free to attendees probably end up as trash.
This season, the Mercedes-Benz goodie bag contained a keychain, tiny bottles of rum, cookies, dry shampoo, an iron, a suitbag, earbuds, a bottle of nasal sanitizer and a stain remover kit, among other things.
"I just don't pick them up because I just know that it's going to go to waste," said Erica Allen, an assistant at BCBG.
(Additional reporting by Ellen Wulfhorst and Michelle Nichols; Editing by Ellen Wulfhorst and Cynthia Osterman)
© Thomson Reuters 2023 All rights reserved.