New invited members at the union of "Haute Couture"
Meeting on the 14th of May in Paris, the 'Comité de Direction de la Chambre syndicale de la Haute Couture' (Committee for the Direction of the Union House of High Fashion) elected new invited members to this year's haute couture schedule. These invitees include a return for the Alexandre Matthieu creative duo.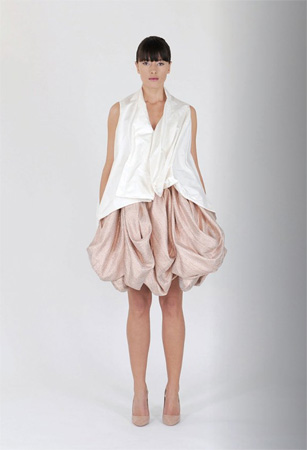 Rabih Kayrouz collection 'haute couture' summer 2009
They had been missing for the past few seasons, but will be welcomed back with pleasure in July. Alongside them will be the Lebanese designer Rabih Kayrouz who will come for his first catwalk in France.
The "Fashion-Accessories" category sees the arrival of Loulou de la Falaise, which will join the master boot-maker Massaro, Maison Michel (hats) and On Aura Tout Vu.
The next catwalks and Haute Couture presentations for Autumn-Winter 2009/2010 and will be held in Paris from the 6th to the 9th of July 2009.
By Jonathan Fulwell (Source: Céline Vautard)
Copyright © 2023 FashionNetwork.com All rights reserved.