New east Africa malls attract draw top brands
March 30 - Several international brands are poised to make an entry into east Africa, attracted by a growing middle class and a raft of new malls springing up around the region.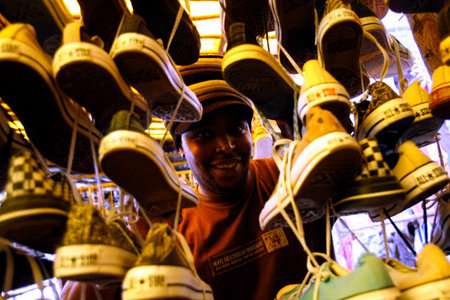 A used converse shoe seller in the Kibera slum in Nairobi, Kenya
Here are some details:
NEW BRANDS
* Puma -
German sporting goods group is expected to open shops in Kenya this year, according to Kenyan retailers.
* Converse, owned by Nike Inc -
The U.S. shoe company is to open its biggest shop in Kenya in June in a mall still under construction. Converse also plans to open outlets in Uganda and Rwanda, and is looking for a partner in Tanzania.
Kenya International Sports, the franchise holder of Converse, also says it is set to introduce Italian fashion brand Alcott in Kenya and then roll out in the region.
* Deacons -
a Kenyan lifestyle firm holding several franchises will cast its nets in Rwanda by 2014 and wants to expand its foothold in Uganda with the 4u2 and Woolworths brands. It also plans to open Babyshop, a brand owned by Dubai-based Landmark Group.
MALLS UNDER CONSTRUCTION
KENYA
* West End, Nakuru -- a 130,000 square feet mall planned for one of Kenya's fastest growing towns.
* Nyali Mall-- located in Kenya's second-biggest city Mombasa, the 130,000 sq feet Nyali mall will have an extra 80,000 sq feet by the end of 2011.
* Developers are working on two new malls in the capital Nairobi. The 130,000 sq feet Greenspan located in the densely-populated Donholm and an 80,000 sq feet centre on the busy Kiambu Road leading to the central business district.
* Nakumatt Junction, one of the busiest malls in Nairobi, is expanding its floor space to a total 240,000 sq feet.
TANZANIA
The commercial capital of Dar es Salaam will have two more shopping centres this year -- Viva Towers, a 21-storey multi-purpose complex, and Dar Village which is still under construction. Kenya's leading supermarket chain Nakumatt wants space in both malls.
RWANDA
* The mulit-purpose 18-storey Kigali City Towers will open its doors in June. Nakumatt says it will be the anchor shop.
UGANDA
* Acacia Plaza in the capital Kampala will be the biggest mall in Uganda at 200,000 sq feet and is scheduled to open in the last quarter.

(Writing by Beatrice Gachenge; Editing by David Clarke)
© Thomson Reuters 2023 All rights reserved.