Nestle to decide on L'Oreal stake in 2014
April 14 - The world's biggest food group Nestle will decide on the future of its stake in French cosmetics group L'Oreal in 2014 when a 10-year standstill agreement draws to an end, its chairman said on Thursday.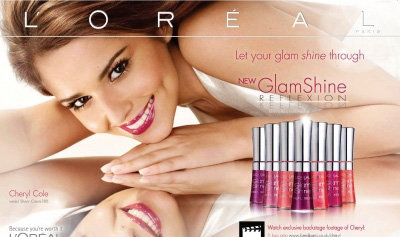 Cheryl Cole for L'Oreal
Last year's disposal of its remaining stake in eyecare company Alcon allowed the food company to sharpen its focus on nutrition, health and wellbeing. Its 30 percent stake in L'Oreal is next on the agenda, Chairman Peter Brabeck said on Thursday.
"Further ahead, although your board of directors has already started to reflect on it, is the extremely important and complex issue of the future of our involvement in L'Oreal, which we will decide upon in 2014," Brabeck told shareholders at the group's annual general meeting in Lausanne.
Chief Executive Paul Bulcke said 2011 had started well and that Nestle, which will publish first-quarter sales on Friday, was well placed to pursue growth and improve margins, despite high raw material prices.
"One of the most important challenges this year is raw materials, given the current strong volatility that started in the second half of last year and which we are not expecting to go away any time soon," Bulcke said.
These comments came after French food group Danone confirmed its full-year goals and posted stronger-than-expected first-quarter sales on Thursday.

SHAREHOLDER PACT
The Vevey-based maker of Nescafe coffee, KitKat chocolate bars and Maggi soups struck an agreement in 2004 with the Bettencourt family, which holds about 31 percent in L'Oreal, on a mutual right of first refusal for their L'Oreal shares for 10 years.
Nestle has held the stake in L'Oreal for more than 30 years but since the Alcon sale, many analysts expect Nestle to be more likely to sell its L'Oreal stake than bid for the whole company.
L'Oreal shares fell 1.35 percent at 1335 GMT while Nestle shares rose 1.62 percent, outperforming a lower Swiss Market Index.
Cost control, product innovation, initiatives to improve access to raw materials as well as, as a last resort, price increases should help Nestle deal with the challenges ahead and reach its growth targets, Bulcke said.
"I can confidently say that we are starting 2011 with continued momentum and are well placed to face the challenges ahead and pursue growth while improving margins," Bulcke said.
Nestle said in February it was aiming for 5-6 percent growth in 2011 and an improvement in operating margins. The company will publish first-quarter sales on Friday.

By Silke Koltrowitz
(Editing by David Cowell)
© Thomson Reuters 2023 All rights reserved.