Mosaic deal saves 8,700 jobs but 4,200 still at risk
LONDON (Reuters) - Icelandic bank Kaupthing put Mosaic Fashions into administration and announced a deal to buy back some of its brands immediately, saving around 8,700 jobs while leaving about 4,200 at risk Monday.
Administrator Deloitte said it had sold the British business and assets of several Mosaic brands -- Anoushka G, Coast, Karen Millen, Oasis, and Warehouse, and the overseas shares of Karen Millen -- to Aurora Fashions, a new company jointly owned by Kaupthing bank and the former management of Mosaic.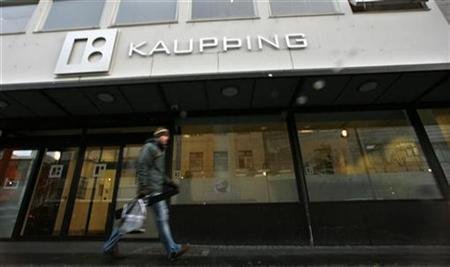 Deloitte said it would continue to run the remaining businesses -- Principles and The Shoe Studio -- and was in talks about a possible sale.
So-called pre-pack administrations -- where owners put a company into administration only to immediately buy back its most profitable assets -- have come under fire from some property companies, which argue they are left out of talks.
Supporters say they safeguard the maximum number of jobs.
"We are delighted that the future of some of the UK's best loved fashion businesses has been safeguarded and that we can now build upon the excellent reputation our brands already have with our customers," Derek Lovelock, chief executive of Aurora Fashions and former head of Mosaic, said in a statement.
"We look forward to our continuing relationship with Kaupthing and also to the end of what has been a difficult chapter in our history."
Mosaic's future was thrown into uncertainty by the collapse of 49-percent-shareholder Baugur in the wake of the Icelandic banking crisis. Baugur owed most of its debts in Mosaic to Kaupthing, which was nationalised as part of the crisis.
The Mosaic brands that have been saved trade in 647 concessions and 268 stores across Britain.
Principles, meanwhile, employs over 2,300 staff and trades from over 400 outlets of which 94 are single stores and the remainder concession outlets. The Shoe Studio employs 1,870 staff and trades from 13 single stores and 270 concessions.
Principles former chief executive Peter Davies said on Friday he had submitted a bid for the brand.
Newspapers have reported Debenhams is a potential bidder, while both retail billionaire Philip Green and private equity firm Alchemy have said they are interested in parts of Baugur's crumbling British retail empire.
A string of British retailers have fallen into administration -- a form of protection from creditors -- in recent months as shoppers cut spending amid rising unemployment, sliding house prices and fears of a lengthy recession.
Other pre-pack administration deals have included fashion chain USC and menswear retailer The Officers Club.
(Reporting by Mark Potter; Editing by Dan Lalor)
© Thomson Reuters 2023 All rights reserved.