More U.S. retailers eye sales north of the border
Toronto | Mon Nov 22, 2010 - Michelle Beard couldn't wait until they took down the signature pink paper covering the windows at one of Canada's first Victoria's Secret stores at Toronto's Eaton Center. "It's finally here," she said.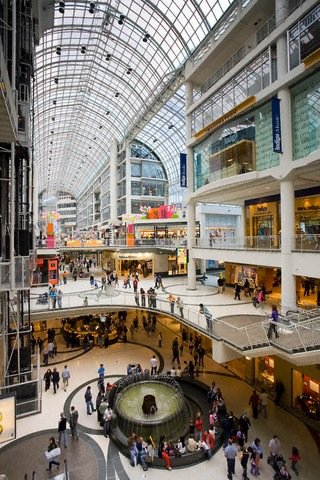 Eaton Center in Toronto, Canada
The long-awaited U.S. lingerie chain made its debut this year, after its parent company, Limited Brands (LTD.N), brought four Victoria's Secret stores into Canada. They were its first stores outside the United States.
It's been more than two weeks since the last of the four opened at the Eaton Center shopping mall in October, when eager customers lined up for nearly an hour to get the first peek, but the store is still packed with customers of all ages.
Limited's ambitious expansion plan into Canada includes plans to increase another brand, Bath and Body Works, by up to 30 stores this year.
It isn't the only one with its eye on Canada.
Since mid-2006, Canadian retail sales have grown 3 to 4 percentage points faster than the U.S. market, prompting more and more American chains to expand their business across the border, according to a report released by Moody's Investor Services.
Discount store operator Target (TGT.N) is scouting Canada for its first international location, with hopes of opening its first store "by mid-decade," according to its spokeswoman Amy Reilly.
"I think Target will be extremely successful," said Brian Yarbrough, an analyst at Edward Jones in St. Louis, MO. "Target fits the niche between department stores and Walmart in Canada."
Apparel retailer J.Crew Group (JCG.N) is the latest to move into Canada after it said in its latest newsletter that it plans to open its first store next year, and among those which are also looking to expand into Canada are Kohl's (KSS.N), Lord & Taylor and Marshalls. They will be following the path of their already established peers, such as Walmart (WMT.N), which entered Canada in 1994, Old Navy in 2001, Lowe's (LOW.N) in 2007, and Brooks Brothers in 2009.
Darren Kirk, vice-president and senior analyst at Moody's, said in the report that the outlook for the Canadian retail sector is stable. While the United States has suffered from a sluggish economic recovery, Canada has been less affected by the global downturn, with lower unemployment rates, a stronger banking sector, and a more resilient housing market than its southern neighbor. "The Canadian retail environment will generally remain favorable compared to the U.S. through the near term," he wrote.
Recent government data showed that Canadian retail sales, including cars, jumped 1 percent in September from the previous month, twice as much as expected, while sales growth in the United States in September was just 0.6 percent.
Brand awareness, similar shopping habits, and higher profit margins in the Canadian retail sector are also factors for U.S. retailers looking to begin global expansion, the report noted.
This trend doesn't appear short-lived. Yarbrough said the American market has been "over-retailed" since the major building boom of shopping malls before the economic slowdown.
"They are always looking for growth avenues because they've run out of room in the U.S.," he said, adding geographical proximity and similar fashion trends also make "Canada a natural place to go."
CONSUMER DEBT A HURDLE

But the future is not all rosy for ambitious U.S. retailers.
Consumer debt levels in Canada have continued to grow relative to disposable income and are now closing in on the U.S. level, which Kirk said could restrain the growth in retail sales.
In addition, as the economy recovers, short-term interest rates would likely rise from the current record lows, forcing consumers to cover bigger interest payments, and thus eroding their disposable income and constraining spending.
The stimulus measures that the government has provided to support the economy, which also helped boost retail sales, expire early next year. The Harmonized Sales Tax -- a value-added sales tax implemented in Ontario and British Colombia this summer -- will likely weigh on consumer spending and retail sales, the report added.
Competition is another headwind. As more and more American brands tap into the Canadian market, competition between U.S. retailers and Canadian retailers as well as among U.S. retailers operating in Canada, will intensify.
"Increased foreign and cross-sector competition will inhibit further margin expansion going forward," Kirk expected.
And the persistent strength of the Canadian dollar against the U.S. dollar could be a double edged sword.
The strong Canadian dollar, which has been flirting with parity against the U.S. dollar, may help lower import costs, but it could also underscore price discrepancies in the same products between the two countries.
For example, the starting price for Apple's iPad is $499 in the United States, versus C$549 in Canada. This may spur consumers to shop online or order directly from U.S. retailers, resulting in additional competitive pressure, the report warned.
The rising Canadian dollar has been driving many Canadians south of the border to look for hot deals and lower sales taxes, especially during Black Friday and after Christmas sales.
However, Brent Houlden, Deloitte Canada's retail practice leader, said in a report, the outflow of cross-border shoppers this season may be smaller than in previous years, because of "border hassles, higher gas prices, and a greater variety of retail offerings in Canada."
The influx of U.S. retailers into the Canadian market also offers consumers more choice and adds downward pressure on prices.
"The more retailers are up there (in Canada), the more price-competitive the markets are going to be. It's going to be a benefit to Canadian consumers," Edward Jones's Yarbrough said.
For Canadians like Beard, it's a win-win situation.
By Atsuko Kitayama
© Thomson Reuters 2023 All rights reserved.