Milan's Rinascente opens "design supermarket"
MILAN (Reuters Life!) - Italian department store La Rinascente, one of Italy's oldest brands, unveiled a "design supermarket" on Thursday 23 July, selling designer goods ranging from paperclips to select pieces of homeware, lighting and luggage.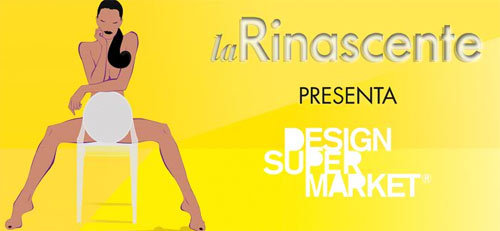 "Design Supermarket" at La Rinascente - www.larinascente.it
La Rinascente has opened the supermarket in its flagship store in central Milan, displaying sophisticated dustpans and washbowls, cubes that open into lamps, vases in the shape of grass and notebooks and mugs by fashion designer Paul Smith.
"La Rinascente was the first to experiment with design in the 1960s in Milan and then we abandoned it," said Chief Executive Vittorio Radice.
"For us this is part of our DNA. It was abandoned -- now it has been rediscovered. Milan is the capital of design ... (not having this) was something that we were missing," he told Reuters.
La Rinascente was founded in the 1860s. The Milan flagship store, next to the Duomo cathedral, is a popular spot for tourists visiting Italy's fashion capital, with its designer labels such as Gucci, Valentino and Armani.
Radice, who has previously forecast there is unlikely to be a recovery in the retail sector until 2012, said people still wanted to buy something special in tough times of crisis.
"Spending money is a personal satisfaction. Even in this sad context of a recession, (buying) a pen, a doll can bring a smile," he said.
Radice, a retail veteran, took over La Rinascente in 2005, embarking on a 7-year plan to improve its image. He closed five loss-making stores, starting giving drab store interiors a makeover and overhauled product lines. Radice made his name in the 1990s by turning London department store Selfridges into a trend-setter.
(Reporting by Marie-Louise Gumuchian; Editing by Steve Addison)
© Thomson Reuters 2023 All rights reserved.