Milan menswear cools business heat wave
June 21 - Fashion designers at the Milan menswear week opted for untied shirts, raffia hats and crocodile espadrilles for next summer to lighten up the wardrobes of men who dress to impress.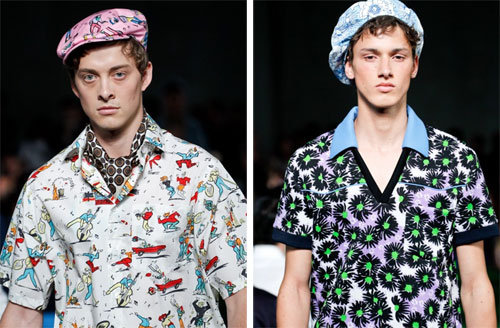 Prada S/S 2012 menswear collection at Milan Fashion Week (Photo: Pixel Formula)
Milan's holiday-themed collections brought a whiff of fresh air into the fashion industry, which is undergoing an intense round of consolidation and bourse listings.
Luxury groups Prada and Salvatore Ferragamo are aiming to raise as much as $2.67 billion in their initial public share offerings, or IPOs, this month.
"It's fantastic to see all these projects that are warming up the market. Investors' interest shows that the fashion industry is growing," Gianluca Brozzetti, Chief Executive of Italian fashion house Roberto Cavalli, told Reuters.
Trendsetter designer Miuccia Prada, back from a fashion show in Hong Kong for IPO investors, delivered in Milan a carefree collection inspired by golf courses, with ironic shirts in cartoon and floral prints playing with tailored suits.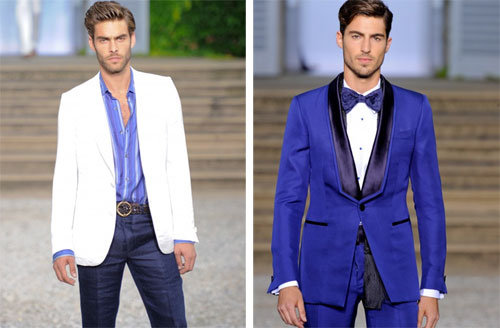 Roberto Cavalli S/S 2012 menswear collection at Milan Fashion Week (Photo: Pixel Formula)
The fashion industry, a key contributor to Italy's economy, is expected to generate 65 billion euros ($93 billion) this year, according to Italy's Chamber of Fashion, up 7 percent from 2010.
At Ferragamo, designer Massimiliano Giornetti brought guests to the French Riviera for his laidback collection, with models in raffia panama hats and close-fitting suits in creamy colors.
A scent of the Riviera also reached Ermenegildo Zegna, featuring crinkled silk jackets in muted bleached colors.
Roberto Cavalli showed tanned models in form-fitting tuxedo jackets with denim skinny trousers for his open-air show.
UNTIED ELEGANCE
Tailored suits, more durable clothes than casualwear, are regaining room in men's wardrobes after being hit hard by the 2009 crisis, Armando Branchini, secretary of Italy's luxury industry body Altagamma, told Reuters.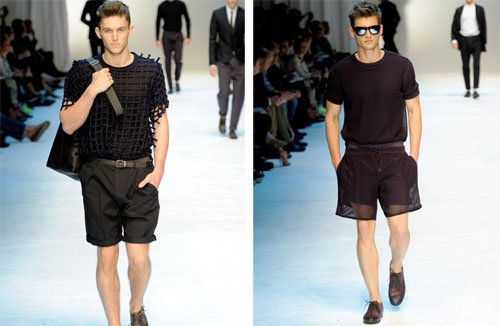 Dolce & Gabbana S/S 2012 menswear collection at Milan Fashion Week (Photo: Pixel Formula)
"We will continue to see lots of upper sportswear on the catwalks, but classic suits are on the rise," Branchini said.
Brozzetti said Asians, traditionally big buyers of menswear, were increasingly turning toward branded products.
Gucci was certainly conscious of its appeal when designer Frida Giannini showed form-fitting jackets in Prince of Wales plaid, a trend this season, rigorously worn with untied shirts.
As customers ask for more personalized finishing, Bottega Veneta mixed leather with denim, while colors and fabrics were also key at Burberry Prorsum. But it was Giorgio Armani who set a new trend for trousers, with low crotches, darts and diagonal zips adding movement to ultra-thin fabrics.
A lightweight net was all the rage at Dolce & Gabbana.
Glamorous gold studs, electric colors and optical prints were the signature of Versace, which announced on Tuesday a collection for Swedish retailer H&M this autumn.
(Reporting by Antonella Ciancio)
© Thomson Reuters 2023 All rights reserved.