Milan fashion houses to raise accessories offer
(Reuters Life!) - Leather handbags and high heeled shoes will continue to gain room in women's wardrobes as luxury groups plan to increase their offer to spice up sales, Italian fashion houses said at Milan's shows this week.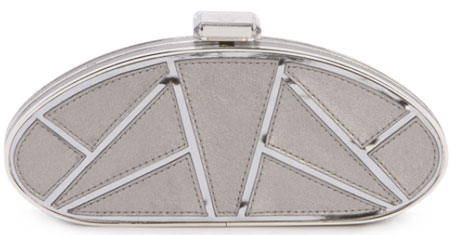 Versace clutchbag
Sales of high-end accessories, which are easier to wear and offer higher sales margins than clothes, have boomed during the downturn, helping fashion houses offset the falling demand for more costly luxury goods.
Fashion names such as Roberto Cavalli and Versace have said they aim to boost production of handbags and shoes next year.
"Accessories are the entry point to the world of luxury fashion for many people, and they have performed this role for many years," Versace's Chief Executive Gian Giacomo Ferraris told Reuters in an emailed interview.
"It stands to reason that during an economic crisis they would do better than other sectors of the market, and I am confident that they will continue to perform well in the future."
Ferraris, who is repositioning Versace's brand after the company was hit hard by the downturn, has said he expects retail sales to rise around 9 percent to 130 million euros ($173.5 million) in 2010.
Italian fashion house Cavalli, best known for its animal print clothes, has said it aims to increase its handbags and shoes businesses in the next two to three years, after retail sales grew double-digit in the first quarter.
"Versace is no exception here - we benefit from our great accessories product range and our know-how in this crucial area," Ferraris said.
METALLIC HEELS AT GUCCI, THICK SOLES AT PRADA
At their spring-summer 2011 womenswear shows this week, Prada presented the thick-soled multicolor sneakers seen at the men's show in June, while D&G bet on wedge shoes.
"People will buy more high heeled shoes. Shoes are an integral part of wardrobes," trend-setter Elio Fiorucci, founder of the namesake fashion brand, told Reuters at Gucci's show.
Gucci's designer Frida Giannini chose mini shoulder bags and booties with python details and metallic heels for her sensual collection, which also featured oversized gold bracelets.
"There is a huge demand for accessories. We will see a growing interest in hats, necklaces and big bracelets," Italian designer Paola Frani told Reuters after her show, where minimalist and clean-cut dresses were twinned with belts in light gold and floral necklaces.
The Milan fashion week runs until September 28, with Armani showing at the end in an effort to balance the longer calendar.
(Reporting by Antonella Ciancio, Editing by Paul Casciato)
© Thomson Reuters 2023 All rights reserved.