Milan fashion awaits Chinese design boom
Feb 27 - Chinese designers will drive catwalk trends more than deep-pocketed Asian buyers as China's creativity becomes fashions' next big thing, top fashion executives and designers told Reuters at Milan fashion week.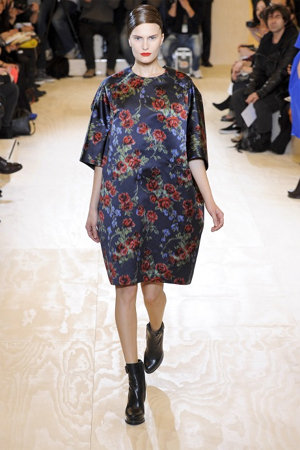 Jil Sander's A/W 2011 collection at Milan Fashion Week
Chinese newly-rich fueled a record year for sales at luxury goods makers such as LVMH, with designers such as Ralph Lauren, Ermenegildo Zegna and Prada drawing inspiration from oriental prints and crystals to cater to Asian shoppers.
"The next big issue for fashion is not China's economic boom but Chinese creativity," Italian trend-setter designer and retailer Elio Fiorucci said on the sidelines of a Dolce and Gabbana show.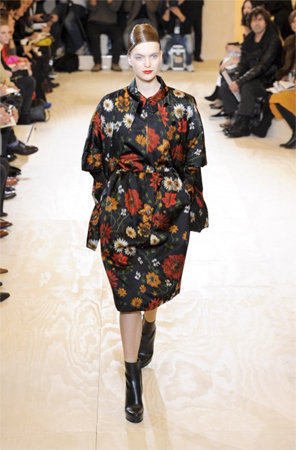 Jil Sander's A/W 2011 collection at Milan Fashion Week
"We know little about Chinese sense of beauty. Chinese designers have got talent, they know all about us and they will be the next big surprise," he said.
China is predicted to become the world's biggest luxury market with sales of $14.6 billion in the next five years, according to the World Luxury Association.
However, economists say the Chinese economy's booming growth rate is bound to ease, after capping a decade of expansion at an average annual rate of more than 10.5 percent.

MIDDLE EAST CONCERNS
Mature markets like the United States are recovering after being hit hard by the worst slowdown in decades.
"The U.S. grew more than China in January and February for us," Versace's Chief Executive Gian Giacomo Ferraris told Reuters before their womenswear show on Friday.
Swiss luxury group Richemont, British handbag maker Mulberry and Italian leather goods group Tod's are all optimistic about 2011.
But political turmoil in the Middle East, a key emerging market, could weigh on the sector, Roberto Cavalli Chief Executive Gianluca Brozzetti said.
"The first months were positive, but we can't drop our guard," Brozzetti said at the Florentine designer's show. "We are all seeing what is happening in the Middle East," he said.
Cavalli reported revenues of 176.2 million euros ($242 million) in 2010, down 6 percent on lower license royalties, but retail sales grew 28 percent as customers were back in stores.
"Beyond China? India and Latin America coud be even bigger markets, but they should cut their custom duty," Brozzetti said.
Brozzetti said Chinese designers have creativity but not enough economic power to compete with established brands.
"Their culture and creativity will certainly be appreciated in the West," he said. "But it will take time."
(Reporting by Antonella Ciancio, editing by Jane Merriman)
© Thomson Reuters 2023 All rights reserved.