Michael Jackson's dad promotes branded perfumes
May 19 - An impromptu press conference called on the sidelines of this year's Festival de Cannes for the Jackson Family Foundation, saw Joe Jackson, and a number of his associates, gather at the Playboy Mansion Tuesday for a brief meet with the press.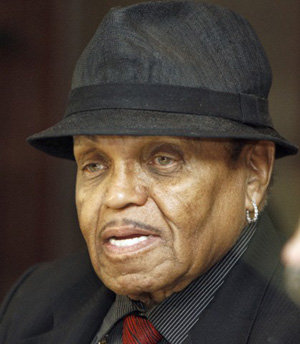 Joseph Jackson, father of late pop star Michael Jackson. (Photo: Corbis)
After posing around the pool for two-dozen photographers, Jackson sat down briefly to clarify and confirm his endorsement of some new Michael Jackson-branded perfumes, Jackson Tribute, Legend and Legacy.
Dressed in a large black suit and bling, Jackson talked about the two bottles presented on the table, before the perfume's creators came forward to talk ahead of the June 9 launch of the scents in Las Vegas.
"Anything you get involved with you are supposed to make money. You know what you can do with money you smile all the way to the bank," he said during the conference.
Julian Rouas in Paris is involved in creating the scents.
Jackson was accompanied by Michael Jackson's former manager, Dieter Wiesner, who spoke about a book he is writing on his time with Michael. "My time with Michael was a beautiful and also a hard time," he said, adding that the book would cover his experiences working with the singer.
Jackson also spoke about plans for Neverland and Happyland, a second theme park in Vietnam he is involved with.
As per Jackson, plans for Neverland include five five star hotels, a seven star hotel and a statue in the middle of Michael Jackson.
"I want people to know that it's (the Jackson Family Foundation) a legitimate foundation to make money and carry on what we have to do. It is for the health of people in need, like any foundation, in any part of the world," began Jackson when asked why he was holding the conference. "Michael had Neverland. It was his mission before Michael passed away to create a theme park and we are taking over that mission."
He said of Jackson: "Michael was a type of person the whole family went behind who crossed all borders with his music. All kids in all parts of the world, they know about him. His mission was to help people and he sold more records than anyone in show business history. It wasn't easy to get the family to this point. I had to work two jobs. I had all nine kids. I stayed there with them and got them all into show biz. I don't care what anyone else said I did my job."
By Liza Foreman
(Editing by Zorianna Kit)
© Thomson Reuters 2023 All rights reserved.