Men's Wearhouse first quarter results beat Wall Street
By Shradhha Sharma
BANGALORE, June 9 (Reuters) - Men's Wearhouse Inc (MW.N) reported a quarterly profit that outpaced expectations, helped by better margins and a strong tuxedo rental business, and forecast an increase in second-quarter comparable-store sales at its namesake stores.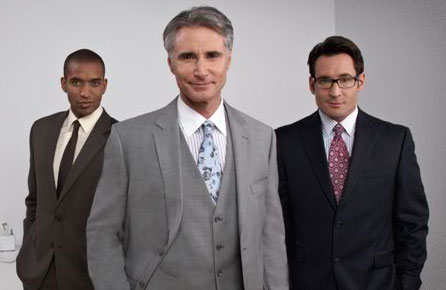 Suits from Mens Wearhouse
Shares of the Houston-based company rose as much as 5 percent to $19.66 in trading after the bell. They closed at $18.67 Wednesday 9 June on the New York Stock Exchange.
On a conference call with analysts, the company said it was seeing negative store-traffic trends reverse.
Store traffic rose 5.3 percent in the first quarter, with new customer growth pegged at 9 percent, the company said on the call.
"They are continuing to benefit from their promotions. We think there could be some upside possible (in the second quarter), because of the favorable margins associated with the tuxedo business," Wedbush Securities analyst Betty Chen said.
She added that the company's clothing-product margin had also risen year-over-year, despite concerns that Men's Wearhouse was offering a lot of promotions.
The men's apparel retailer also sees a significant uptick in marketing spending in all three of its retail units in the second quarter, Chief Executive George Zimmer said on the call.
The company expects same-store sales at its Men's Wearhouse stores to be up in the low-single-digit range during the second quarter, and down low- to mid-single digits at its K&G stores.
Same-store sales at its Moores unit are expected to be flat to up low-single-digit in the quarter.
The comparable sales outlook includes a low-double-digit increase in comparable-store tuxedo rental revenues, the company said in a statement.
NOT TO OPEN WOMEN'S STORES
Men's Wearhouse said it was not opening a chain of women's wear stores. Earlier in the day, the New York Post reported the company would expand into selling women's clothing next year, under the label 'Women's Wearhouse.'
"I don't think we are going to go down that path because I think we want to continue to be able to promote with the 1000 Men's Wearhouse stores," CEO Zimmer said.
TUXEDO BOOST
The company, which rents out one in every three tuxedos in the United States and Canada, said it was seeing faster growth at its tuxedo rental business this year than it did last year.
Tuxedo rental margins, as a percentage of related sales, rose 115 basis points in the first quarter, mainly because of lower product costs.
"The tuxedo business was solid in the first quarter, but more importantly, it seems like it will be up very nicely during the second quarter, and seasonally the second quarter is always strong," analyst Chen said.
The company also forecast second-quarter earnings of 75 cents to 78 cents a share, compared with analysts' view of earnings of 78 cents a share, according to Thomson Reuters I/B/E/S.
For the first quarter ended May 1, the company posted net income of $13.6 million, or 26 cents a share, up from $5.3 million, 10 cents a share, a year earlier. Revenue at the owner of nearly 1,300 stores under the Men's Wearhouse, Moores and K&G brands rose marginally to $473.5 million.
Analysts were looking for earnings of 14 cents a share, on revenue of $458.00 million. (Reporting by Shradhha Sharma in Bangalore; Editing by Vinu Pilakkott)
© Thomson Reuters 2021 All rights reserved.