McCain, Obama campaigns clash on trade deals, China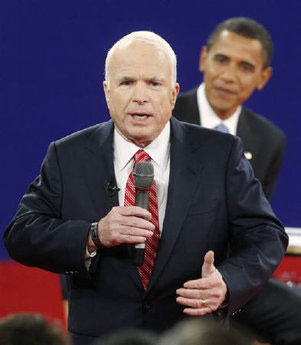 Photo : Jim Young/Reuters
By Doug Palmer
WASHINGTON (Reuters) - Democratic presidential candidate Barack Obama would ramp up pressure on China and other countries that violate trade rules and put less emphasis on cutting new trade deals if he captures the White House, a representative of the Obama campaign said on Wednesday.
"We have to see a material shift in resources within USTR (the U.S. Trade Representative's office)" toward more trade enforcement, said Lael Brainard, an international trade policy expert on leave from the Brookings Institution.
She faced Philip Levy, a trade scholar at the American Enterprise Institute, in a debate over how Obama and Republican presidential candidate John McCain differ on trade, a hot issue for many voters in swing states like Ohio.
McCain's top trade priorities would be to conclude the long-running round of world talks, win approval of free trade agreements with Colombia, South Korea and Panama and work in a bipartisan fashion to restore support for trade in Congress and the American public, Levy said.
Brainard said President George W. Bush had negotiated "a lot of trade agreements" since 2001 that have provided little real benefit for middle class Americans.
At the same time, the number of cases the United States has filed against other countries for violating World Trade Organization rules has declined to three per year under Bush from about 11 annually under former President Bill Clinton.
Based on growth in world trade and the rise in the number of WTO members, "you would have expected 17 cases per year" if the Bush administration was serious about enforcement, said Brainard, who served in the Clinton White House.
But Levy, a former economic adviser to Bush, questioned whether the number of WTO cases filed each year was the best way to measure enforcement.
If disputes can be resolved "though quick, quiet diplomacy, that would seem to me to be dramatically superior" to filing cases at the WTO, which take years to fight out, he said.
Brainard also criticized the Bush administration for repeatedly failing to label China as a currency manipulator.
Bush's approach to the hot-button issue has angered labor groups and many manufacturers, who believe China is deliberately undervaluing its currency to boost its exports and thwart imports from the United States and other suppliers.
"We can't keep giving China a free pass on maintaining an undervalued currency. We did that for about seven years," Brainard said. Obama would use "existing authorities and all diplomatic means at his disposal" to pressure China and supports legislation to give the White House more tools, she said.
BAD TIME FOR A "TRADE WAR?"
Levy agreed that China's currency is undervalued and a long-term problem for the United States. But given the global financial crisis it is "a bit of an odd time time to be punishing the Chinese for sending capital our way," he said.
"I think there's room for negotiation there. I think what Sen. McCain would do is try to take action that would be effective for the American people. Starting a trade war with China probably doesn't meet that bill," Levy said.
Levy said a failure of the long-running Doha round of world trade talks "would put the WTO at serious risk of irrelevance or, even worse, it's slow demise."
Brainard did not mention the beleaguered Doha round in her prepared remarks, but in response to a question said Obama regretted the collapse of efforts in July to reach a deal.
"I think, in general, the smoke has not really cleared in terms of what happened in Geneva and it's going to take a while to figure out how to come back," Brainard said.
Obama opposes the Colombia free trade agreement on the grounds that country has not done enough to stop murders of trade unionists, and has called for renegotiation of the South Korea agreement to provide U.S. automakers better terms.
Brainard dismissed business community hopes that Obama, if elected, would support Congress approving one or more of the pacts in a lame duck session after the Nov. 4 election to get them off the slate for next year.
(Editing by Vicki Allen)
© Thomson Reuters 2023 All rights reserved.