Malaysian palm oil struggles to promote 'green' image
KOTA KINABALU, Malaysia, May 4, 2008 (AFP) - Malaysia is promoting its controversial palm oil industry as a model of eco-friendliness, but activists warn forests are still being destroyed to make way for vast plantations.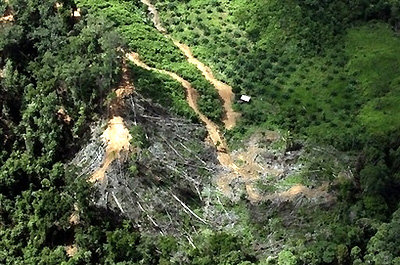 Fallen trees from a rainforest cleared to make way for agricultural space, are seen next to an encroaching oil palm plantation (top R) over the Miri interior, eastern Malaysian - Photo : AFP
As palm oil prices boom, Malaysia has mounted a campaign to counter allegations that the crop is responsible for habitat destruction, air pollution from slash-and-burn farming, and pushing orangutans towards extinction.
It insists palm oil is only grown on legal agricultural land and that criticisms are an attempt by competitors in Europe and the United States to undermine growing demand for the commodity.
But environmentalists say that while virgin rainforests are now off-limits, tracts designated as "secondary forests", which are also valuable habitats teeming with wildlife, are not being spared.
Junaidi Payne from the World Wildlife Fund (WWF) said the government's stance is misleading and that the race to fulfil demand for palm oil risks causing further deforestation, both legal and illegal.
"It is actually a red herring to say that Malaysia does not convert rainforests to oil palm plantations," Payne said at a recent conference on palm oil sustainability in Sabah state on Borneo island.
Payne said that in the past 25 years, previously virgin forests which have been partially logged were downgraded to secondary forests, which are then deemed to be legal agriculture land.
"What bothers me is the current sustained price of crude palm oil," he said. "The success of palm oil production will have an impact on forest conservation as more land is set aside to cultivate the crop."
The charismatic orangutan, the flagship species for the forest conservation drive, is found only in Borneo -- which is shared between Indonesia and Malaysia -- and Indonesia's Sumatra island.
An estimated 41,000 orangutans live on Borneo, including Indonesia's Kalimantan and Malaysia's Sabah and Sarawak states, while Sumatra is home to 7,500 Sumatran orangutans, a sub-species of the red-haired ape.
The gentle animal is now threatened with extinction due to a loss of natural habitat, say experts who point out that most of Malaysia's orangutans live in secondary forests.
The Malaysian Palm Oil Council (MPOC) has vigorously fended off the allegations, pointing out that 60 percent of Malaysia's land mass is forested, while agriculture occupies just 19 percent.
"Every country has the right to develop 30 percent of their forest land to agriculture. So what is the issue?" MPOC chief executive officer Yusof Basiron told AFP.
"Records show that the UK has knowingly developed 70 percent of its land for agriculture, leaving less than 12 percent under forest," he said.
"Nobody asks the UK government to reverse the situation even though over-developed agricultural land can be easily reforested to help reduce global warming."
As palm oil prices spiral, driven by demand for clean-burning biofuels as well as for an ingredient in food and cosmetics, Malaysia and Indonesia are jockeying for top-dog status as the world's largest producer.
Malaysia says Indonesia likely seized its mantle as the world's biggest palm oil producer in 2007, due to dramatically increased planting. The two countries combined supply 85 percent of the world's palm oil.
Environmental campaigners Friends of the Earth in 2005 called for a boycott of palm oil products, predicting that orangutans would be wiped out within 12 years if forest destruction were to continue at current levels.
The adverse public opinion poses a threat to an industry which last year earned Malaysia 14.1 billion dollars in exports, a whopping 42 percent jump from 2006. That figure is tipped to rise to 15.7 billion dollars this year.
Indonesia and Malaysia have pledged to carry out joint research to counter anti-palm oil "propaganda" that jeopardises the lucrative industry.
"We will present accurate facts to all those who are against palm oil, whether for economic reasons, or due to concerns over global warming or because they are agents to palm oil competitors," said Malaysian Plantation Industries and Commodities Minister Peter Chin.
WWF's Borneo-based researcher Darrel Webber said the situation is much more serious in Indonesia, where deforestation is rampant.
"In Malaysia there is more awareness and cooperation between planters and conservation groups. The situation is much more acute in Kalimantan and Sumatra," he said.
Webber said Malaysian palm oil can be sustainable if industry players are willing to conserve animal habitats and work around indigenous communities, instead of fragmenting forested areas.
"It is important to note that palm oil is the only commodity that is going for such a thing as sustainable production. It is a real challenge but it is viable," he said.by Ivy Sam
Copyright © 2023 AFP. All rights reserved. All information displayed in this section (dispatches, photographs, logos) are protected by intellectual property rights owned by Agence France-Presse. As a consequence you may not copy, reproduce, modify, transmit, publish, display or in any way commercially exploit any of the contents of this section without the prior written consent of Agence France-Presses.