Lyon's silk survivors ply noble trade
LYON, France - Heavy rolls of silk printed with a tiny stirrup motif line up on a factory floor near Lyon, waiting to be rolled, beaten and brushed to perfection, before they are cut into Hermes neckties.
Based outside the eastern French city, silk "finisher" Proverbio is one of a handful of survivors of a once-flourishing industry, which from farm to weaver to trader employed many thousands at its height in the 19th century.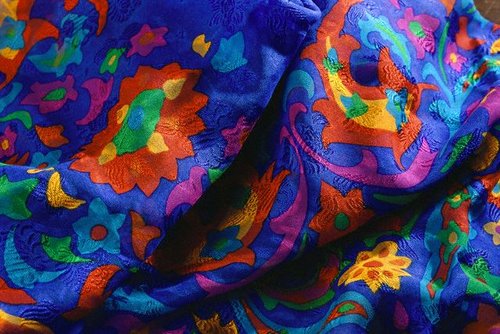 Silk fabric made in Lyon / Photo: Corbis
Today the thread comes from China or Brazil, but Lyon still counts a core of about 30 silk companies focused on the very top end of the luxury market.
When Laura Bush wanted to spruce up the curtains in the yellow room of the White House, she naturally turned to the people who made the originals for Jackie Kennedy: Lyon's oldest silk weaver Tassinari et Chatel.
France's whole textile sector took a knock following the banking crisis of 2008, but silk has bounced back in the past two years thanks to robust demand in the luxury sector.
"There aren't many silk firms left, but those that remain are doing well," said Pierric Chalvin, head of the regional textile federation, Unitex.
Tassinari was one of a dozen firms showcasing its skills this week at the Lyon Silk Bazaar, held in the city's old stock exchange, where bolts and offcuts are sold direct to the public packing out the venue.
Founded in 1680, the firm supplies sumptuous 17th- and 18th-century patterned silks to the Chateau de Versailles, to royal households and luxury hotels the world over, turning over four millions euros last year.
"We have hand-made items that can take two, three or four years to weave -- at a pace of a few centimetres a day," said Tassinari's industrial director Bertrand Dessailly.
"Technically, what we do could be done elsewhere. But our fabrics carry within them a little bit of French history. And the people who can afford them do not want to buy them in China."
Haute Couture designer Alexis Mabille, who is originally from Lyon, sources most of his silk there and partnered with the fair to promote local know-how.
"Each house here has its specialities," said the 33-year-old designer, known for his signature bow-tie motif. "For couture or luxury ready-to-wear there are the classics like radzimir, which you can have reissued, or gazar which is back in fashion, or others who do chiffon with silk velvet."
He says a willingness to work closely with designers is key to survival.
"It means you can obtain things that are exclusive, or semi-exclusive. If you want a particular motif, a change of colour, something psychedelic instead of classical, you can have it," he said.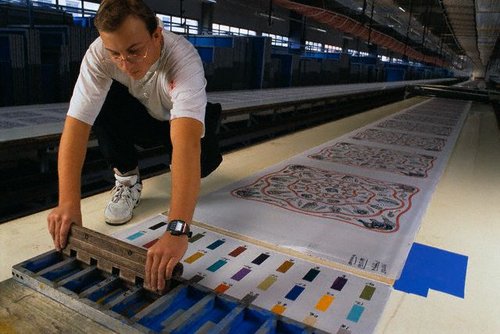 Worker selecting colors for Hermes Scarves in Lyon / Photo: Corbis
One of Mabille's suppliers is the weaver Sfate et Combier, which exports fabrics like silk chiffon and organza to more than 50 countries -- and creates some 1,000 novelty weaves and patterns each year.
"In France it has become impossible to produce cheap fabrics. We have been pushed upmarket. But that is an asset, because the further up we go, the fewer limits there are on our creativity," said its chief executive Philippe de Montgrand.
From modern weavers like Sfate et Combier, to heritage firms, to luxury fashion brands from Chanel to Louis Vuitton or Hermes, Proverbio counts most of France's big silk players among its 50-odd clients.
It business, called finishing, is what makes silk feel like silk.
Step one is to scour or boil-off the fabric, to remove a sticky gum called secretin, the glue in the silkworm's cocoon.
Rolls of raw white silk, starchy and thick-feeling, are wound by hand onto spools and plunged into frothy vats of water with pure olive oil Marseille soap, emerging slippery and supple.
Proverbio then uses a string of chemical and mechanical processes to fine-tune the silk's feel and aspect -- mat, shiny, grainy, smooth -- or add special properties.
"We can make a soft silk even softer for a piece of lingerie, or make a tie water-resistant," he said. "The possibilities are infinite."
Founded 90 years ago and still family-owned today, his firm last year expanded its workforce from 34 to 45 people and invests 15 percent of annual turnover into research and development.
"Silk is inseparable from its history," said the firm's head Bruno Proverbio. "Up to us to ensure that history is not just left gathering dust."
In the meantime, since the silk rolls need to travel back and forth between weaver and finisher, Proverbio believes it is unlikely to lose out to faraway competitors -- as long as there are looms still whirring in Lyon.by Emma Charlton
Copyright © 2022 AFP. All rights reserved. All information displayed in this section (dispatches, photographs, logos) are protected by intellectual property rights owned by Agence France-Presse. As a consequence you may not copy, reproduce, modify, transmit, publish, display or in any way commercially exploit any of the contents of this section without the prior written consent of Agence France-Presses.