Luxury spending by rich to rise; value sought
April 15 - Spending by rich Americans on luxury goods is set to grow by $26.6 billion in 2011, with the number of affluent families planning to spend more almost doubling in the past three years, a poll found on Friday.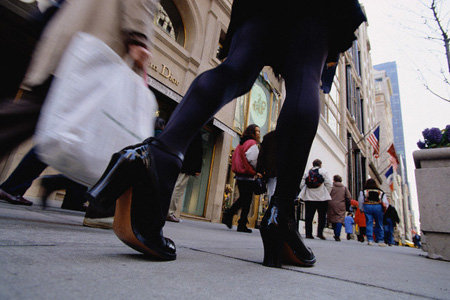 People walking past a Christian Dior store on a busy Manhattan sidewalk
As the United States gradually emerges from its worst economic crisis in decades, the American Express Publishing and Harrison Group survey forecast spending on luxury goods to increase nearly 8 percent to $359 billion this year compared to 2010.
"It is a relief to finally be able to see a significant return of affluent consumers to the luxury marketplace," Jim Taylor, vice-chairman of Harrison Group, said in a statement.
But he said "the affluent consumer remains needs-based, resourceful and research-oriented."
"They will exercise discretion. They will pursue authenticity and extraordinary quality. They will engage in the art of the deal and the discount with relish. And, they will operate as families in need, not want," Taylor said.
The Survey of Affluence and Wealth in America polled 1,458 families with a discretionary income of more than $100,000 -- representing the wealthiest 10 percent in the United States who account for about 50 percent of all consumer spending.
It found that 15 percent of those families plan to spend more in 2011, up a quarter from 2010 and almost double from 2008, while the number cutting spending was nearly halved from last year to 9 percent and down two-thirds from 2008.
Taylor said that while 70 percent of affluent Americans still believed the country is in recession, they are less anxious -- concern over job loss has fallen 50 percent from 2010 and worries about the potential failure of their company are down to 11 percent from 28 percent.
"In the end, the increase in spending we foresee is not a return to the wanderlust of the past, but rather, an expression of sensible, resourceful, self-confident consumers expanding their portfolio of needs," he said.
"The nearly $4 trillion in their money market funds gives these consumers the power to purchase with cash. Their value equation reflects the price of recession: mature judgment," Taylor said.
A 2010 stock market rally, which pushed up the Dow Jones Industrial Average 11 percent, has also helped woo consumers.
Consumer spending, which accounts for 70 percent of U.S. economic activity, grew at a brisk 4 percent pace in the final three months of last year. But U.S. retail sales posted their smallest gain in nine months in March, as auto sales plunged and consumers felt the sting of higher gas prices.
The online wealth survey was conducted from January 31 to February 14 and has a margin of error of plus or minus 3 percentage points.

By Michelle Nichols
(Editing by Mark Egan and Eric Walsh)

© Thomson Reuters 2023 All rights reserved.