Luxury goods sales to rise 7 percent per year
Global sales of luxury goods should rise 7 percent a year through 2014, buoyed by a still-growing Chinese market and barring any major economic crises, Boston Consulting Group forecast on Tuesday.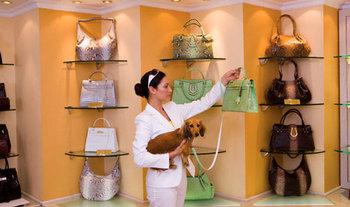 Photo: Corbis
Under a worst-case scenario, defined by BCG as a 1.5 percent decline in gross domestic product in Western Europe, the United States and Japan, and slowing growth in emerging markets like China and Brazil, sales would rise only 3 percent a year.
Luxury sales have boomed in the last two years, recovering from the 2008 global financial panic. But stock markets around the world have swooned since April because of the euro zone crisis, a stalled U.S. recovery and signs of more modest economic growth in China, casting a cloud over the sector.
Upscale jeweler Tiffany & Co last month lowered its annual sales forecast because of the turmoil, while Saks Inc's chief executive told investors last week that a sustained drop in the stock market, or international tourism, could affect the U.S. luxury department store's business.
"If there are (fewer millionaires), and if there is a big slowdown in China or Brazil, this will impact the sector for sure," said Jean-Marc Bellaiche, a BCG senior partner who heads the firm's luxury practice.
Growth in so-called experiential luxury, such as adventure travel, spas and hotels will outpace growth of goods such as watches and designer gowns, BCG projected.
One example of a luxury company riding that growth is LVMH's upscale Cheval Blanc five-star hotel franchise. It is expected to have a total of four locations by year-end.
Sales of this segment of luxury should rise 12 percent per year until 2014, BCG said.
Despite the dark clouds over luxury, the growth of the middle class in emerging markets like China, Brazil and Russia will be a boon for the global luxury market.
"The reservoir for growth still exists," Bellaiche said.
© Thomson Reuters 2022 All rights reserved.