Luxe chains see room for many more outlet stores
May 27 - U.S. luxury department stores plan to keep opening more lower-price outlets without fear of hurting their high-end prestige, retail executives said this week.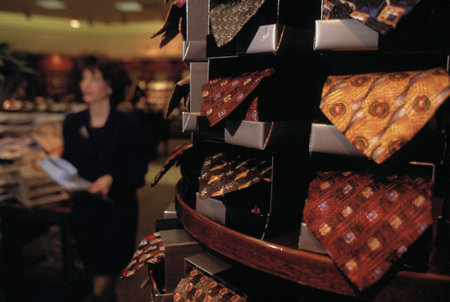 Female employee carrying shirt inside Nordstrom store in Washington, USA (Photo: Corbis)
Saks Inc is planning to open another three to five Off Fifth outlets annually in the coming years but will not open any new Saks Fifth Avenue department stores.
Neiman Marcus and Nordstrom Inc are also focusing on low-price outlets in their new store openings.
"I don't think we are close to the point where you have too many," Saks Chief Executive Steve Sadove said at the Reuters Global Luxury and Fashion Summit.
Saks operates 57 outlets, compared to 46 department stores. On Thursday, Nordstrom said it was closing a full service store in Indianapolis but will open a Rack outlet nearby.
For a graphic on the growth of outlet chains, please see U.S. luxury chains: full-line vs. outlets: r.reuters.com/zyn69r
Outlets, where luxury chains sell more affordable merchandise and items left over from earlier seasons, have lifted retailers' sales during and since the recession, reaching so-called "aspirational" shoppers with limited budgets who covet top name brands.
Neiman Marcus CEO Karen Katz said at the Summit that the retailer's Last Call chain of 28 outlets is a way "to reach that price-sensitive fashion customer that is out there and in most cases not ready yet to shop Neiman Marcus."
Neiman operates 41 department stores, and will open one next year, but otherwise, the number of stores has remained steady in recent years.
Luxury industry executives dismissed the notion that too much of a push into outlet stores risks hurting the aura of exclusivity that is essential to their business.
"In no way has the factory outlet strength eroded our potential or our franchise," said Lew Frankfort, chief executive of leather goods company Coach Inc (COH.N).
The executives say outlet shoppers are sufficiently different from the full line stores to reduce the risk of cannibalizing sales.
Neiman's Katz said the customer overlap between the two chains was 15 percent of shoppers.
Outlets are typically concentrated in specialized malls relatively far from large cities and full line department stores to minimize that risk.
Sadove and other executives said the only impediment to a faster roll-out of outlets is a lack of suitable malls.
But Macy's Chief Executive Terry Lundgren, whose Bloomingdale's chain opened its first three outlets last year and will open four more this year, said developers are keen.
"The outlet center developers are highly interested in Bloomingdale's because they know we'll bring additional traffic to the centers," Lundgren told Reuters last week.
While department store sales will remain a much bigger share of sales for Saks and Neiman, outlets are helping them reduce their exposure to the risk of another breakdown in luxury sales, analysts say.
"Outlets are no longer just for bargain hunters. They're also often a new entertainment experience," said Marc-Andre Kamel, a luxury industry expert at Bain & Co.
(Reporting by Phil Wahba and Dhanya Skariachan; Editing by Richard Chang)
© Thomson Reuters 2021 All rights reserved.