Lowe's taps Australia growth with Woolworths joint-venture
SAN FRANCISCO/MELBOURNE (Reuters) - Lowe's Companies Inc (LOW.N), the No. 2 U.S. home improvement chain, is making its first foray outside North America through a joint venture with Woolworths Ltd (WOW.AX), Australia's largest retailer.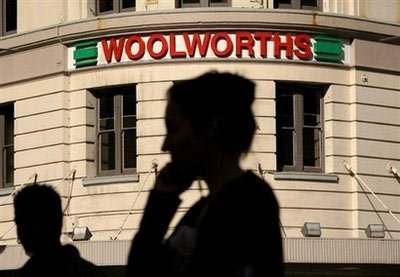 Woolworths in Sydney - Photo: AFP/File/Greg Wood
Lowe's, like bigger rival Home Depot Inc (HD.N), has been battered by the U.S. housing downturn, with its sales in a protracted slump as homebuilders and consumers pull back from housing-related purchases.
In contrast in Australia, home renovation continues to thrive as homeowners focus on fixing up their own houses rather than buying property.
Australia is also one of the few advanced economies to have dodged a recession, with the central bank predicting 0.5 percent growth in 2009, increasing to 2.25 percent next year.
The venture will allow Lowe's to tap a thriving Australian renovation market and enable Woolworths to expand into hardware.
The joint venture includes an A$88 million ($73.6 million) takeover offer for Australia's second-largest hardware distributor, Danks Holdings Ltd (DKS.AX), at A$13.50 per share, 65 percent above its last trade.
Under the deal, Lowe's will own one-third of the new home improvement chain, whose first new store is slated to open in fiscal 2011. The size of the investment was not immediately disclosed.
Lowe's Chief Executive Robert Niblock said in a statement the deal would tap what the companies called the under-served $20 billion market in Australia, representing a "tremendous opportunity for the home improvement chain."
The two companies plan to secure more than 150 large-format store sites in the next five years.
As of January, Lowe's operated 1,638 stores in the United States and 11 stores in Canada. The company said then it planned to open 60-70 stores in fiscal 2009, including in Canada and its first-ever stores in Monterrey, Mexico.
OPPORTUNITY
Lowe's, whose shares have fallen nearly 17 percent in the past year, is the second major U.S. retailer to expand into Australia's tightly held market this year, following Costco (COST.O), whose warehouses sell everything from groceries to diamond rings.
Woolworths has more than 3,000 retail outlets in Australia and posted fiscal 2009 revenue of $37 billion (A$49.4 billion). The company has no relation to the now-shuttered Woolworth's drugstore chain that formerly operated in the United States.
In Australia, Woolworths' multiple brands include Woolworths supermarkets, BIG W discount department stores and Dick Smith consumer electronics stores.
With the venture, Woolworths will face off again with rival Wesfarmers Ltd (WES.AX), which owns the market leading Bunnings hardware chain as well as Woolworths' main competitor in supermarkets, Coles.
Wesfarmers Managing Director Richard Goyder said last month he would welcome new competition in the sector, but investors saw the joint venture as a threat and knocked Wesfarmers shares down as much as 10 percent.
In contrast, Woolworths' shares rose just over 3 percent to A$28.90 -- its highest in more than nine months.
"Clearly this is not good for Wesfarmers, as such a high-powered, well-organized and experienced combination of Woolworths, Danks and Lowe's is attacking them on that front," said Martin Duncan, an analyst at Fortis Investment Partners.
WISE MOVE FOR WOOLWORTHS?
Analysts and investors have been divided over the wisdom of Woolworths expanding into hardware, a prospect that had prompted much speculation over the past year.
Hardware, which covers everything from timber to plumbing supplies used for home improvement, is seen as an area that could boost Woolworths' profit growth as growth slows in its core supermarket business, which it dominates in Australia.
"It's a fantastic deal for Woolworths. It's been amazingly well thought out and executed. They're going in there with a partner which has a great format in the U.S.," said Duncan.
Lowe's format appeals more to women, clearly differentiating it from Bunnings' warehouses, which appeal more to men, he said.
The deal also makes sense as Danks, with a 4 percent market share against Bunnings' 18 percent share, will give Woolworths instant critical mass in the sector and relationships with hardware and plumbing suppliers.
Rob Patterson, managing director of Argo Investments, said uncertainty about the outlook for consumer spending in Australia as unemployment grows should not scare Lowe's from entering the market, as it was teaming up with the country's best retailer.
"It's probably a good strategic move for both companies," Patterson said.
Danks said it recommended shareholders accept the offer in the absence of a better bid.
Shares of Lowe's closed down 2 percent in New York and did not move after hours.
($1=1.195 Australian Dollar)
(By Alexandria Sage and Sonali Paul. Editing by Richard Chang and Dhara Ranasinghe)
© Thomson Reuters 2023 All rights reserved.