Low down on high heels for fall/winter fashion
LONDON (Reuters) - After teetering on vertiginous stilettos women may get some relief as designers lowered their heights for their 2011 Fall-Winter collections.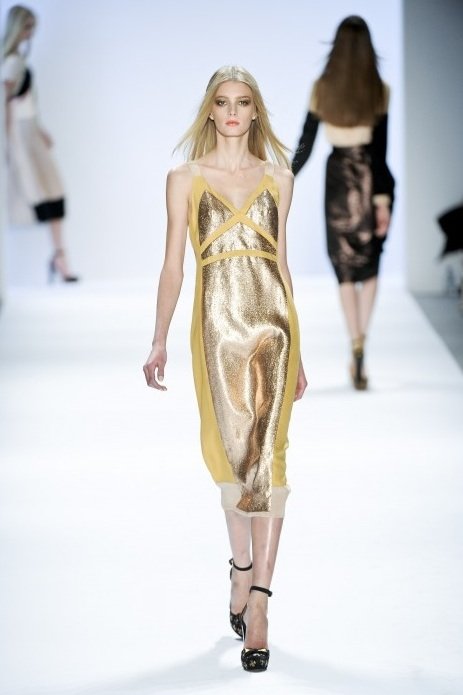 Jill Stuart - AW 2011-12 / Foto: Pixel Formula
Spiky heels and stilettos haven't disappeared from the catwalk but designers showing their newest lines at New York Fashion Week featured plenty of lower, stacked, chunky heels, wedges, booties and colored socks.
"They're quirkier. I think they're more wearable and cooler right now," said Dana Schwartz, the director of communications for Jill Stuart about the shoes and the look.
"It goes with the current trend of longer hemlines, blouses and more done-up, sophisticated silhouettes. The shoes counter that to bring it back."
New York designer Stuart paired bold, abstract animal prints, strong colors in rusts, red, oranges, black and aubergine and below-the-knee skirts in a collection inspired by the forest and a dark wintery fairy tale with wedges, booties and socks crumpled around or above the ankles.
The chunky shoes off set the feminine looks and gave the collection a quirky touch.
"It adds playfulness to the overall look," Schwartz added.
Dark colored socks were an added touch and accompanied nearly every outfit including tapered trousers, elongated skirts, as well as softer shifts and feminine dresses.
Adam Lippes, the founder and creative director of ADAM, also featured socks in his fall collection but instead of sturdier shoes, he matched them with Manolo Blahnik high heels for a funky, yet feminine look.
White, brown and black socks worn with strappy ankle-tie stilettos added the finishing touch to a button-topped pleated skirt, silk printed dresses, a strapless black lace gown and a gold embroidered dress in the collection inspired by a visit to the National Museum of the American Indian in Manhattan.
"It (the sock) really draws a lot of attention to the shoes," said Erin Conroy, a spokesperson for Italian shoemaker Via Spiga.
Wedged booties, stacked heels and combat boots also completed New York-based English fashion designer Charlotte Ronson's somber grunge, outdoorsy look that featured chunky sweaters, military jackets, wide-leg trousers and maxi and miniskirts.
"Part of it is the comfort factor," Conroy said. "For women who are seeking comfort, the wedge is a great solution because you don't have to give up the height to be comfortable."
For Emmanuelle Alt, the new editor-in-chief of French Vogue whose appointment was announced last month and who will be presiding over the Paris shows, shoes are the most important element of an outfit.
"You can wear just about anything as long as you have beautiful shoes, but you can't do the opposite," she told Elle Decoration in 1977.
Fans of super-high platforms weren't disappointed by designer Christian Siriano, of Project Runway fame. He opted for drama with shoes not for the faint hearted. His towering clunky designs included snake-skin, studs and buckles.
But Siriano's shoes were a bit too challenging for one model who tumbled on the runway during his New York show.
© Thomson Reuters 2023 All rights reserved.