London shows sexy and colorful styles for spring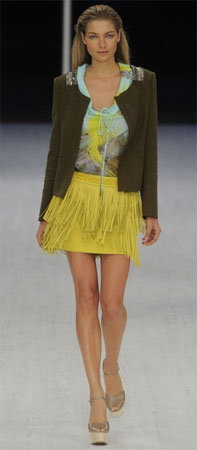 Matthew Williamson S/S 2011 at London Fashion Week. Photo : Pixelformula
(Reuters Life!) - Designers opted for the sexy and colorful for next spring's womenswear at London Fashion Week, but stuck to a timeless style to appeal to budget-conscious buyers picky about adding to their wardrobe.
Short dresses and high heels featured prominently on the catwalk at many spring/summer 2011 shows, with Julien Macdonald injecting doses of glamour by looking to the boudoir.
His models wore pastel-colored and flower-printed short frilly dresses, at times transparent, as well as long gowns with trains in lace and silk in bursts of color. A puff of perfume minutes before the show added to the bedroom feel.
"I decided to take these English girls to Hollywood and I made them very ultra glamorous and ultra sexy," he said.
Hong Kong-born John Rocha took last season's trend of underwear as outerwear one step further, playing with corsets and bras, sometimes put in as panels in jackets.
His collection was full of long fluid dresses, accessorized with backpacks and leather lace-up wedge boots.
"I just feel that at this moment in time, for me it's all about texture. I try to make women look as beautiful as possible," Rocha told Reuters.
"There's enough sadness in the world, there's enough drama."
Burberry Prorsum mixed biker jackets with trenchcoats at mid and mini length, then combined the biker and trenchcoat looks in gabardine, bonded twill and other fabrics with all kinds of leather from heavy black to shiny patent in bright colors.
"NEVER CONVENTIONAL"

There was also a hint of the 1970s, with flared trousers, bold prints and fringed skirts and dresses at several shows.
For her Red Label line, Vivienne Westwood had a selection of trouser and short suits as well as loosely cut and shirt dresses that were worn with mismatched lace-up shoes.
Westwood, who rose to prominence 30 years ago during Britain's punk era and shows her main line in Paris, also had net capes, hot pants and exaggerated cleavages on some designs.
"I've had a good run for sure. I can only say it's because I do something that is not a market thing," she told reporters when asked about her success. "I just do what I really like, and I make something that you can't get anywhere else."
Matthew Williamson presented a tropically colored collection, heavy in beading and embroidery. He had plenty of billowing gowns as well as short bustier dresses and collarless jackets worn with high-waisted and wide-legged trousers.
Vivienne Westwood S/S 2011 at London Fashion Week
© Thomson Reuters 2023 All rights reserved.