Liz Taylor's jewels, fashion set for December auctions
June 29 - Actress Elizabeth Taylor's renowned collection of jewelry, works of art, fashion and memorabilia will be sold in a series of auctions starting in December, Christie's said on Wednesday.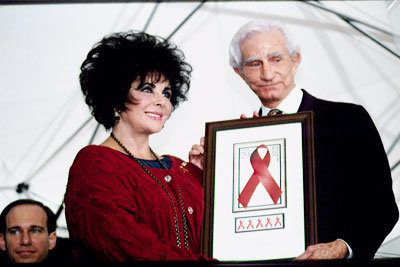 Elisabeth Taylor's charitable work - photo: corbis
Taylor, one of the last great stars from Hollywood's heyday who was known as much for her beauty, love of diamonds, eight marriages and work as an AIDS activist as her films, died of congestive heart failure in Los Angeles on March 23 at age 79.
Christie's said it will devote all its Rockefeller Center headquarters gallery space to an unprecedented, monumental 10-day exhibition of her collection beginning on December 3.
Before the sale a three-month worldwide tour of Taylor's jewelry, fashion, accessories, decorative arts and memorabilia will kick off in September, with stops in Moscow, London, Los Angeles, Dubai, Geneva, Paris, and Hong Kong.
Marc Porter, Christie's Americas chairman and president, said the exhibitions would provide "a window into the world of a true icon, a rare woman who was at once an international film and fashion star, loving mother, successful businesswoman, and generous humanitarian."
In keeping with Taylor's humanitarian work a portion of the proceeds from the exhibition admissions, events and publications related to the sales will be donated to The Elizabeth Taylor AIDS Foundation, which the actress founded in 1991.
Christie's did not release details on specific items in the auction or estimates of what they would fetch but past sales of collections of other famous people have sold for many millions.
Jacqueline Kennedy Onassis' estate fetched $35 million at Sotheby's in 1993, while a nine-day sale of property from the Duke and Duchess of Windsor soared to nearly $25 million.
The series of Taylor sales are individually devoted to jewelry, haute couture, fashion and accessories, decorative arts and memorabilia from Taylor's Bel Air home, and Impressionist and modern art.
Taylor's jewelry is expected to draw intense interest. Christie's described the sale as "one of the most remarkable jewelry events in auction history." A gala evening sale December 13 will be followed by two more sessions on December 14.
Taylor's jewelry was reportedly worth more than $100 million at her death. Her estate was valued at anywhere from $500 million to $1 billion.
All sales, except art which will be held in London in February, will take place in December in New York.
Christie's said it will also hold online-only sales through Christie's LIVE to run concurrent with the exhibition and sale dates.
(Reporting by Chris Michaud; editing by Patricia Reaney)

© Thomson Reuters 2022 All rights reserved.