Limited Brands profit falls, sees 1st-qtr loss
* Q4 adjusted EPS 68 cents vs Wall Street view 64 cts
* Sees Q1 shr loss 7 cents to 12 cents
* Amends credit agreements
* Shares down 10.5 pct (Adds analyst comment, updates share price)
By Nicole Maestri
NEW YORK, Feb 26 (Reuters) - Limited Brands Inc (LTD.N) said its quarterly net income fell sharply as it slashed prices to lure hesitant shoppers and wrote down the value of its La Senza lingerie chain, sending shares down 10 percent.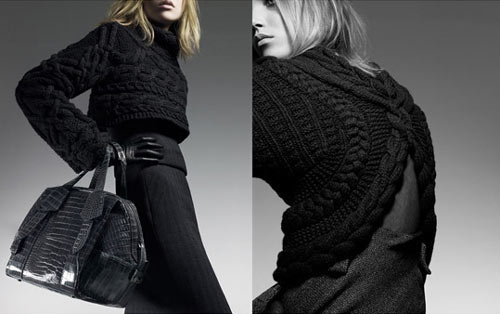 Calvin Klein ad
With the environment forecast to remain tough, the operator of the Victoria's Secret lingerie chain and Bath & Body Works shops forecast on Thursday a first-quarter loss while analysts, on average, were expecting a profit.
Martyn Redgrave, chief administrative officer cited "extraordinary uncertainty and lack of visibility" in all the company's businesses and said the company was responding with "aggressive" actions, including job cuts and salary freezes.
In an analyst note, Jefferies' Randal Konik said playing defense was the right move for the Columbus, Ohio-based retailer.
"We applaud management for getting even more serious about cutting costs, preserving capital, and focusing on cash flow in this environment," Konik wrote, noting that the company's outlook, however, was "not spectacular."
Limited said profit was $16.1 million, or 5 cents per share, for the fourth quarter ended Jan. 31, down from $388.6 million, or $1.10 per share, a year earlier.
Excluding items, such as a 63 cent-per-share impairment charge for La Senza, the retailer said earnings were 68 cents per share, down from 94 cents per share a year earlier.
Analysts on average had expected earnings per share of 64 cents, excluding items, according to Reuters Estimates.
As previously reported, revenue fell to $2.99 billion from $3.23 billion a year earlier, excluding a $47.8 million gain related to gift cards. Same-store sales, a key gauge of retail performance, fell 10 percent in the quarter.
Limited expects to report a loss of 7 to 12 cents per share for the first quarter, and it forecast full-year earnings of 60 to 85 cents per share.
Analysts had been expecting it to earn 1 cent per share in the first quarter and 89 cents per share for the full year.
RECESSION REDUCES DEMAND FOR LINGERIE, BATH PRODUCTS
Limited has struggled as the recession crimps demand for nice-to-have items like lingerie and bath products.
To offset declining sales, it has reduced capital spending, cut staff and tried to better control its inventory.
It also discounted merchandise earlier than usual this holiday season to lure hesitant shoppers, but the heavy promotions hurt fourth-quarter results in its Victoria's Secret and Bath & Body Works chains.
To respond to slumping demand, Limited said it has reduced the number of products and styles it carries in Victoria's Secret stores to focus on its most popular items.
At Bath & Body Works, it has relaunched its Signature fragrance collection and will try to attract shoppers with a series of new product introductions this spring.
But it said February same-store sales are tracking down in mid- to high-single digits, and it forecast first-quarter same-store sales would be down in the high single-digit range.
It expects full-year same-store sales to drop between 5 and 10 percent.
Limited said it will manage inventory and expenses conservatively and forecast capital expenditures of roughly $200 million this fiscal year. In October, it said such spending would range from $300 million to $400 million.
The retailer said it cut 400 jobs, or about 10 percent of the staff, at its home office; suspended pay increases for salaried employees; and will focus on its liquidity and cash position instead of buying back its own shares.
Limited Brands acquired La Senza, a Canadian lingerie brand, in January of 2007. It operates more than 300 stores in Canada and hundreds of franchise stores internationally.
But the economic downturn has forced many retailers to write down the value of acquisitions made in rosier times, and Limited said it took an impairment charge of $215 million to write down goodwill and other assets related to La Senza.
The retailer said the charge will not affect its relationships with its own lenders.
It also said the credit agreements for its $1 billion revolving credit facility and its $750 million term loan have been amended.
In early afternoon trading, Limited shares were down 94 cents or 10.5 percent to $7.98 per share. (Additional reporting by Alexandria Sage in San Francisco, editing by Dave Zimmerman, Gerald E. McCormick, Phil Berlowitz)
© Thomson Reuters 2023 All rights reserved.