Lean holiday inventories could spur retail chase
By Martinne Geller - Analysis
NEW YORK (Reuters) - Retail chains that have stocked a minimum of shirts, scarves and shoes for the holiday rush this year could end up scrambling for merchandise if recent shopping trends are any guide.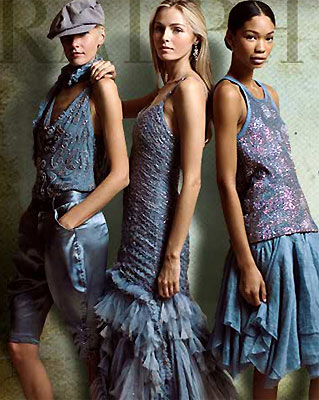 Ralph Lauren spring-summer 2010 - Polo Ralph Lauren Corp earlier this month said it was able to satisfy replenishment orders from its retail customers and speed up shipments of desired merchandise.
The retail industry has slashed inventory, sometimes as much as 25 percent, to avoid profit-sapping markdowns since a financial crisis slammed the brakes on spending late last year.
But as consumers show signs of spending more, store chains could be forced to chase after goods or bring in some of next season's merchandise, said retail executives, analysts and consultants.
If sales trends -- which "picked up materially" in late September and early October -- continue at this pace, Brean Murray, Carret & Co analyst Eric Beder said, spring merchandise could land on shelves in December, instead of the usual February.
"Inventories at retail are now are at a point where with any kind of uptick in sales, you need to chase some goods," said Emanuel Chirico, chief executive of clothing maker Phillips-Van Heusen Corp, this week at a summit hosted by Women's Wear Daily. "If trends were to continue at these levels I think there are some retailers who are going to have a problem in December and January actually having goods."
Companies that stand to benefit from such a scarcity have brands with evergreen appeal or are nimble enough to obtain new merchandise quickly.
VF Corp , maker of North Face coats and Wrangler jeans, said retailers will not be the only ones on the hunt.
"We're all running with less inventory in our businesses," said VF Chief Executive Eric Wiseman at the WWD summit. "Are we going to be chasing a few things? Yes. For sure, we will be this holiday season if trends continue."
Polo Ralph Lauren Corp earlier this month said it was able to satisfy replenishment orders from its retail customers and speed up shipments of desired merchandise, helping it beat Wall Street estimates in the third quarter.
The company, whose brands include Polo and Chaps, said initial wholesale orders in the quarter were conservative as consumer spending remained low. But as the quarter progressed, sales exceeded expectations, and Polo ended up clocking a double-digit percentage rate increase in replenishment orders.
"It gives us another strategic weapon in terms of servicing during this very skittish time," said Polo Chief Operating Officer Roger Farah on a conference call.
Watch maker Fossil Inc is keeping some extra merchandise on hand so it can respond quickly if retailers need replenishment, even as late as December 20, said CEO Kosta Kartsotis this week, noting that the watch business can do up to 45 percent of annual sales in the next 10 weeks.
"Things can happen very quickly," Kartsotis said on a conference call. "We have been hearing from some of our wholesale customers that they're willing to take goods if they need them ... they're all prepared if there's a big season."
THE THRILL OF THE CHASE
Most retailers and vendors are playing it safe this year, having based their holiday orders on the weakness of last year, said Needham & Co analyst Christine Chen. And for the most part, it is too late for change.
"They can't order for holiday in holiday," she said, while noting that certain names, such as Urban Outfitters Inc, Guess Inc and Aeropostale Inc, may be small or nimble enough to chase popular items, whereas Gap Inc and J Crew Group could have more difficulty.
She also said brands that manufacture domestically, such as True Religion Apparel Inc and American Apparel, could possibly turn around orders faster, as well as those that feature basic styles that are replenished often.
"Polo's a perfect example," she said. "If the inventories of polo shirts are too low, well, a red polo shirt is a red polo shirt, it doesn't matter what time of year it is."
Instead of retailers, Brean Murray's Beder is favoring apparel manufacturers this season, since their valuations tend to be below that of retail. They also stand to see stronger sales and profit margins as retailers sell through their merchandise, which should mean fewer discounts.
Beder has "buy" ratings on Warnaco Group Inc, Maidenform Brands Inc, Perry Ellis International, True Religion, Phillips Van-Heusen and G-III Apparel Group Ltd.
Richard Hastings, a consumer strategist with Global Hunter Securities, expressed optimism about the ability of the industry's supply chain to respond to emergencies.
"You'd be amazed what the planet can produce within a matter of four or seven days," he said. "If you really have a tough spot, you can just load up a 747. It doesn't always have to be big-volume containers on cargo ships."
While it may cost more to turn around such last-minute orders, Hastings said it was difficult to say which side of the vendor-supplier equation would absorb the profit hit. Just-in-time service is sometimes seen as part of an ongoing contract between a company and its vendors, he said.
(Editing by Steve Orlofsky)
© Thomson Reuters 2023 All rights reserved.