Lagardere again scales back 2011 profit target
PARIS - French media-to-aerospace conglomerate Lagardere SCA scaled back its annual core profit target for a second time this year, blaming deepening problems at its fledgling sports division.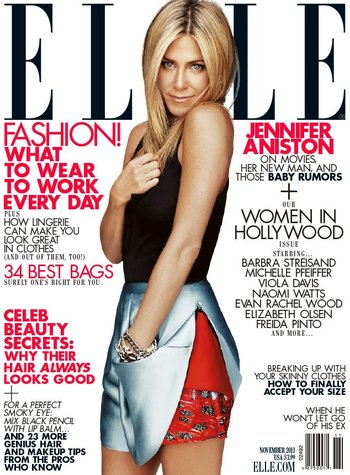 Elle magazine is property of Lagardère
Lagardere, which competes with Pearson Plc and Bertelsmann AG (BTGGg.F) in radio and book publishing, posted largely in-line third-quarter revenue but said it now expected core media profit to decline 5-12 percent this year, compared with a drop of 5-7 percent predicted in August.
Investors sent its shares down as much as 8 percent as they tried to digest how much of a drag on profitability the sports division had become and whether its new management would be able to turn it around.
The sports division, which Lagardere has stitched together in recent years through nearly 1 billion euros of acquisitions, has yet to turn a profit and is now expected to post a loss this year.
In recent months the unit, which bids for broadcast rights to events such as the soccer World Cup and also represents athletes, has been plagued by execution problems, asset write-downs, and contract losses amid weakening demand for tickets to sports events.
It is also embroiled in a legal dispute over the rights to Indian cricket matches, requiring it to pay for rights that it can't collect any revenue on.
In June, the management was sacked and soon after Lagardere issued a profit warning because of problems at the unit.
A sports buff who can often be seen courtside at the French Open tennis tournament, Arnaud Lagardere is now being forced to defend his effort to turn his personal passion into a profit engine for his family's company.
Asked how much longer he planned to keep pouring money into the troubled division, he responded: "Losses are not acceptable. Next year will obviously be better."
"The situation today in the sports business is very bad, and we are very disappointed," he said on a conference call. "But I continue to feel very confident that sports will be the next important growth driver for the company."
Some analysts are sceptical given the company's weak track record.
"The key question on sports is will today's downgrade on the activity be permanent or not," said one analyst. "The steep drop in the shares today shows you that so far investors are not putting much credit in management's promises."
Seeking to reassure, Arnaud Lagardere also pledged not to undertake any acquisitions until the restructuring of the sport business was complete, adding that the company had even shelved several planned buys as a result of the troubles.
Sales held up in the other parts of the company in the third quarter, with revenue largely in line at 1.98 billion euros, helped by growth in its travel retail and media distribution unit.
The books division, a key driver of profitability, also saw revenue slip 2.5 percent on an organic basis to 601 million euros in the third quarter.
The company attributed this to the timing of certain book launches, such as the biography of the late Apple founder, Steve Jobs, and to higher e-book sales, which have lower prices but higher margins.
Lagardere shares were down 35 percent so far this year before Tuesday's publication, lagging the STOXX Europe 600 media index which is down 12 percent.
($1 = 0.727 Euros)
By Leila Abboud
(Additional reporting by Gwenaelle Barzic; Editing by Christian Plumb, David Holmes and Sophie Walker)
© Thomson Reuters 2023 All rights reserved.