Kenzo calls on Jean-Paul Goude to reconnect with its roots
Playful, multi-cultural and unisex – these are the messages be communicated by the "new Kenzo" publicity photo. For their first campaign since joining the LVMH group, Americans Carol Lim and Humberto Leon called on the photographer Jean-Paul Goude, "the best positioned to translate the founding spirit of Kenzo in the 70s," say the brand's creative directors.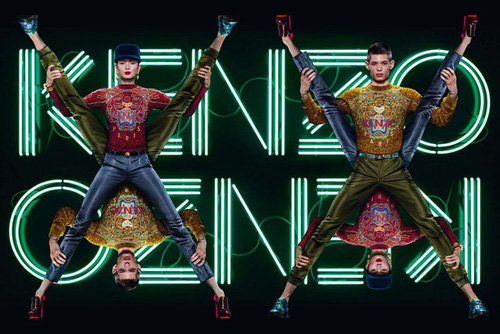 Jean-Paul Goude is the creator of the Kenzo Fall-Winter campaign 2012 (Photo Kenzo)

While construction of the image invokes the visual vocabulary of a card game, an effort to the new rules of Kenzo, it was also necessary to mine the brand's history, going back to its founding in the seventies at the height of disco fever. This was the world in which Kenzo Takada opened his studio/boutique "Jungle Jap," the starting point of his career. It is this same thread that guides the new artistic direction of the company, trying to answer the question "What would Kenzo do today?"
Through this on-point campaign, an initial answer will start appearing in the international fashion press in September: now Kenzo would call on Jean-Paul Goude. "The fact that the image works for both men and women depending on how you reverse it, was a very interesting take from his part on our collection," said Humberto Leon, delighted that this strong signal projects the image of Kenzo "both for her and for him."
Copyright © 2023 FashionNetwork.com All rights reserved.