Kellwood says bondholders agree to swap debt
NEW YORK, July 23 (Reuters) - Kellwood Co, a clothing maker that failed to pay off a $140 million bond issue when it matured on July 15, said on Thursday 23 July its bondholders had accepted new debt expiring in 2014 in its place.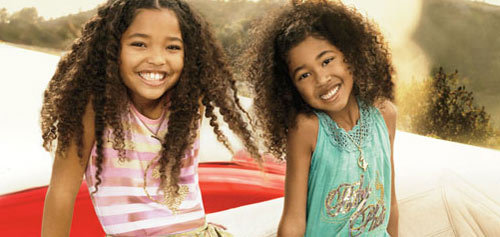 Baby Phat Girlz, a Kellwood Co brand
The move is a change of direction for Deutsche Bank and other bondholders, who had rejected the bond exchange earlier this month.
Kellwood, owned by private equity firm Sun Capital, said last week it had not been able to renegotiate the $140 million bond issue before it matured. This time around, it says Deutsche Bank AG (DBKGn.DE) is on board.
When the company, whose brands include Phat Farm and Sag Harbor, did not pay off the bond at maturity last week, it said it reached a forbearance agreement with its lenders, including Bank of America Corp (BAC.N). It also said it would look at other options to strengthen its balance sheet.
A forbearance agreement is typically an agreement to postpone, reduce or suspend payment due on a loan for a specific time period.
The company said in a statement on Thursday 23 July it has access to its $175 million credit facility. It said the debt swap was a par-for-par exchange. It did not disclose what percent of bondholders participated in the swap and a company spokesman was not immediately available for comment.
Kellwood was advised by Lazard Middle Market, a subsidiary of Lazard Ltd (LAZ.N) that provides M&A and restructuring advice to middle market firms, and law firm Kirkland and Ellis.
(Reporting by Caroline Humer; editing by Richard Chang and Tim Dobbyn)
© Thomson Reuters 2021 All rights reserved.