Kellwood options limited if it doesn't repay debt
NEW YORK, July 15 (Reuters) - Options for Kellwood Co [KWD.UL], one of the largest U.S. apparel makers, are limited if the company fails to either repay or extend the date of $140 million in bonds that come due midnight Wednesday 15 July.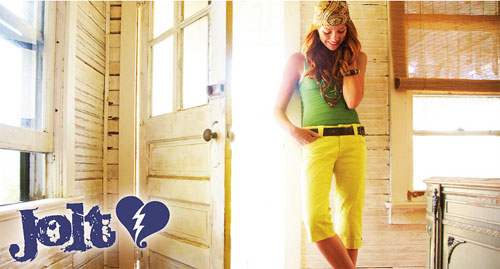 Jolt, Kellwood
When a company does not pay down maturing debt, it can have far reaching consequences. For one, a default on one obligation can automatically trigger defaults on other debts, forcing the company to quickly pay back lenders. A firm can also become the target of nasty litigation, or find itself dragged into bankruptcy court as creditors try to recoup some of their investment, said restructuring experts, speaking generally about corporate debt obligations.
"If your bonds go into default, it's a bad thing," said James Bromley, a partner in the restructuring group for law firm Cleary Gottlieb Steen & Hamilton LLP. "You're taking a risk that your bondholders can take steps and collect on your assets."
Kellwood, whose brands include Phat Farm and Sag Harbor, has been trying to forestall a looming debt deadline with an offer to exchange its debt coming due with new debt that would expire in 2014. But Deutsche Bank AG (DBKGn.DE), the largest holder of the securities, backed out of an exchange offer on Friday 10 July.
It was unclear Wednesday (15 July) afternoon if Deutsche Bank was still negotiating with Kellwood. The company and Deutsche Bank did not return calls for comment.
Restructuring experts emphasized that defaulting on loans does not necessarily trigger a trip to bankruptcy court.
"Nothing happens at midnight tonight except that the amount due doesn't get paid," said Richard Mikels, a partner at law firm Mintz Levin. "The company can continue to negotiate, wait to see what creditors do or file a Chapter 11 (bankruptcy). There are many companies that miss a payment, resolve things and never go into Chapter 11."
Bondholders, in turn, also have several options, he said, including further negotiations, litigation or taking possession of the collateral that was pledged on the debt.
It may be in the best interests of bondholders to continue talks, however, on the chance they recoup more of their investment over time, rather than forcing the company to repay everything immediately.
"There's not a lot you can do -- you can't squeeze blood out of a turnip," said Scott Avila, managing partner at restructuring adviser CRG Partners. "If the cash is not there, it's not there."
Kellwood said on Monday 13 July it was "business as usual" at the company as it tried to extend the bond's maturity date. The company also said it was "actively exploring a number of alternatives" to strengthen its financial position and that the process could take up to a month. It was not more specific about the alternatives it was exploring.
Private equity firm Sun Capital Partners took Kellwood private in 2008.
(With additional reporting by Phil Wahba and Caroline Humer)
(Reporting by Chelsea Emery; Editing by Phil Berlowitz)
© Thomson Reuters 2021 All rights reserved.