Karl Lagerfield adds shine to Orrefors's crystals
There is no stopping Karl Lagerfeld. The prolific fashion designer, constantly engaged in almost monthly collaborations with companies such as Swarovski, Optic 2000, 3 Suisses, Coca-Cola Light, Hogan, Pirelli and Sponge Bob Square Pants, has taken on a new project with Swedish crystal manufacturer Orrefors.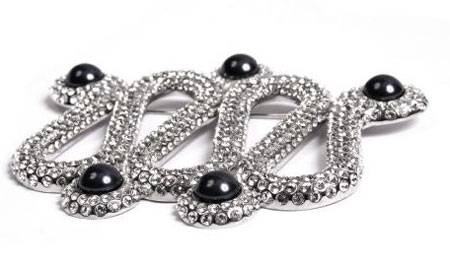 Brooch by Karl Lagerfeld for Atelier Swarovski
Without giving away too many details about the project, the Crystal Art collection envisioned by the fashion designer will be launched next year under the name of 'Orrefors by Karl Lagerfeld'.
Located in the 'Kingdom of Crystal', a region in the south of Sweden where the majority of Swedish glass is produced, Orrefors is one of the two brands belonging to the Orrefors Kosta Boda group (the other one being Kosta Boda), and it is a leading player in the glass industry. Specialised in clear crystals for more than a century, Orrefors has been reinventing their designs for some years in order to stay competitive in the market. They have thus opened a new range directed at functionality. Here, the new partnership with Karl Lagerfeld shows more of an attempt to be fashionable. As for the collection, it is meant to come out during spring 2011.
Whilst waiting for its launch, one could take the time to discover the jewellery line made for Atelier Swarovski. With prices ranging from 170 to 440 pounds (205 to 515 euros), the collection can be found at Colette in Paris, as well as Printemps Haussmann and in Atelier Swarovski's sales points. It varies from brooches to necklaces and silver-plated cufflinks, all adorned with Swarovski crystals and navy blue or chocolate pearls.
Copyright © 2023 FashionNetwork.com All rights reserved.