July US retail sales lack bounce
SAN FRANCISCO (Reuters) - U.S. retailers could post their 11th consecutive drop in monthly same-store sales this week as cool weather, a weak job market, and a lack of tax-free holidays had shoppers picking through the clearance racks in July instead of buying full-priced back-to-school clothes.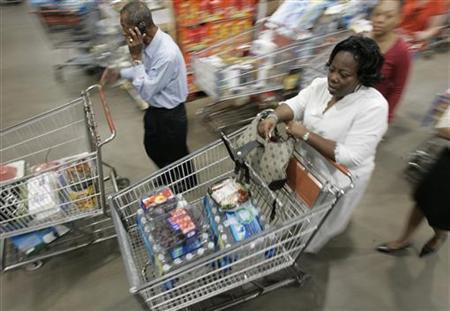 July typically offers retailers a chance to bolster second-quarter profits by selling new autumn merchandise to fashion conscious students, eager to begin piecing together a stylish wardrobe for the first day of school.
But this year, analysts expect that July got little boost from back-to-school sales. Shoppers are showing a reluctance to buy anything at full price, and new fall merchandise arriving in stores is competing with the heavily discounted summer goods that failed to sell well in June.
When retailers release July sales results on Wednesday 5 August and Thursday 6 August, the reports, which measure sales at stores open at least a year, could be peppered with some profit warnings from chains that were unable to attract shoppers with the right mix of merchandise and prices.
"This is the end of the quarter for most retailers," said Eric Beder, retail analyst at Brean Murray, Carret & Co. "The final reckoning is going to happen on Thursday (6 August)."
Beder said American Eagle Outfitters (AEO.N) could warn on its second-quarter earnings due to back-to-school merchandise that was "highly underwhelming" and increased competition from lower-priced competitor Aeropostale (ARO.N).
In July, overall same-store sales for U.S. retailers are expected to fall 5 percent, according to data from Thomson Reuters. The figure excludes Wal-Mart Stores (WMT.N), which stopped reporting monthly sales earlier this year.
Department stores and retail chains that sell clothes to teenagers and children are expected to post the worst sales declines in July with a 9 percent and 10.4 percent drop, respectively.
JULY NO BETTER THAN JUNE?
June same-store sales fell 4.9 percent, according to Thomson Reuters.
With last month ranking as the coolest July in North America in 17 years, according to weather tracking firm Planalytics, "We think July trends are going to be similar to slightly worse than June," Pali Research analyst Amy Noblin said.
She said retailers also missed getting a boost in July from tax-free-shopping holidays, which were shifted in some states from the July reporting period into the August period.
During tax holidays, which have been a boon to the back-to-school sales season in recent years, states suspend their sales taxes to encourage shopping.
Wedbush Morgan said July typically represents about 30 to 35 percent of second-quarter sales for many clothing retailers. Following three months of soft sales trends, it said earnings could be at risk at American Eagle Outfitters and Zumiez Inc
(ZUMZ.O).
But it said that Aeropostale and Gymboree could raise earnings expectations, given solid business trends.
FBR Capital Markets & Co analyst Adrienne Tennant agreed that Gymboree and Aeropostale could raise second-quarter guidance. She also said Gap (GPS.N) could increase its earnings forecast, given its tight control of expenses.
While consumers are showing a penchant for shopping at discount stores to stretch limited household budgets, July same-store sales among the group are expected to fall 6.3 percent.
Jharonne Martis, senior research analyst at Thomson Reuters, said a large part of the decline is due to falling same-store sales at Costco Wholesale (COST.O) and BJ's Wholesale Club (BJ.N).
Last year, the warehouse clubs, which operate gasoline stations, saw their same-store sales jump as fuel prices reached record levels. But this year, their sales have waned as gas prices have fallen.
Including gasoline sales, five analysts expect BJ's July same-store sales to fall 6.8 percent. But excluding gasoline, one analyst expects an increase of 4.5 percent, according to Thomson Reuters data.
(Reporting by Nicole Maestri, editing by Leslie Gevirtz)
© Thomson Reuters 2023 All rights reserved.