Johnson & Johnson buys 18% stake in Crucell
AMSTERDAM (Reuters) - U.S. diversified health care company Johnson & Johnson (JNJ.N) has bought an 18 percent stake in biotech firm Crucell (CRCL.AS)(CRXL.O) for 302 million euros ($444 million) as part of a flu vaccine development deal, the Dutch company said on Monday 28 September.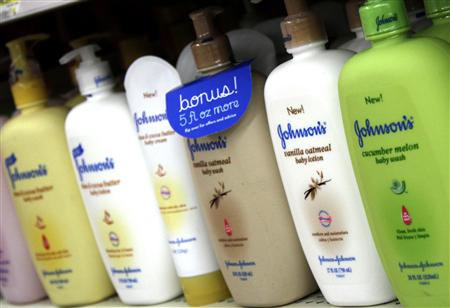 Photo : Rick Wilking
Vaccine-makers have been hot M&A targets recently, particularly for large drugmakers keen to secure new products as exclusivity on existing best selling products nears an end.
Crucell had previously been in takeover talks with U.S. drugmaker Wyeth (WYE.N), but talks were broken off in January after Pfizer (PFE.N) moved in to buy Wyeth.
Johnson & Johnson and smaller rival Abbott (ABT.N) are already the most diversified of the large U.S. and European healthcare companies, but both continue to snap up more companies and products -- often at distressed prices due to the economic downturn.
Crucell said it issued 14.6 million new Crucell shares to Johnson & Johnson, which paid about a 30 percent premium based on the average price of Crucell shares in the past 35 days. That led to a price per share of about 20.63 euros.
The transaction will have an estimated dilutive impact of $0.02 to $0.04 on Johnson & Johnson's 2009 adjusted earnings per share.
Crucell said the collaboration will focus on developing a universal "flu-mAb" product targeting all influenza A strains. That includes H1N1 strains which cause seasonal flu and the current pandemic flu, along with the H5N1, or avian, strain.
Both companies also agreed to milestones and royalty payments based on the successful development and commercialization of products, but Crucell declined to provide further details.
"A universal antibody or vaccine that protects against a broad range of strains would be an important advance in helping ... control acute epidemic and pandemic outbreaks," said Paul Stoffels, global head of pharmaceuticals R&D at Johnson & Johnson, in a statement.
Shares in Crucell were up 4 percent at 16.585 euros at 0750 GMT (3:50 a.m. EDT), outperforming a 1.1 percent fall in the Amsterdam midcap index .AMX.
"This collaboration is a good deal for Crucell. Although the drug is still in a very early stage, Crucell would not have been able to support the expensive late clinical trials on its own," SNS Securities analyst Ilja Zaanen said.
The collaboration will also focus on development and commercialization of non-flu vaccines for the treatment and prevention of other infectious and non-infectious diseases.
As part of the deal, Crucell and Johnson & Johnson affiliate JHC Nederland agreed to a three-year standstill, requiring Crucell's consent for an increase in JHC Nederland's interest in Crucell and a three-month lock-up on transfers of the shares.
Crucell Chief Executive Officer Ronald Brus said the deal will have no impact on the company's exclusive partnership with Sanofi-Aventis (SASY.PA) over the French firm's production of a cell-based flu vaccine using Crucell's PER.C6 technology.
The company said last month it planned to kick off clinical Phase I studies of the experimental antibody-based flu drug, which had substantially outperformed Roche AG's (ROG.VX) market-leading Tamiflu pill in preclinical tests.
Brus said there were no changes to the company's timing, but declined to give an estimated date for the launch of a product.
"We think we have a headstart. We have worked a long time already on this and we feel quite prepared to be the first out (with a product), but I can't give you timelines," Brus said.
Crucell's antibody, produced using its PER.C6 technology that uses human cells rather than chicken eggs, aims to provide an antibody to treat or prevent a wide variety of influenza viruses. Cell-based technology is thought to be more efficient than using eggs and offers greater production scale.
(By Aaron Gray-Block. Editing by David Holmes and Simon Jessop)
($1=.6810 Euro)
© Thomson Reuters 2023 All rights reserved.