Jeweller Graff gets nod for $1 billion IPO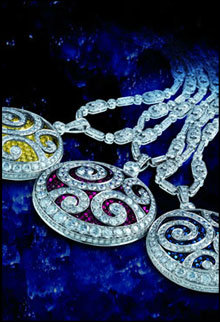 Photo: Graff Diamonds
HONG KONG - Graff Diamonds, which sells "the most fabulous jewels in the world", has received the green light from the Hong Kong bourse for a market debut that could raise up to $1 billion, sources said, paving the way for growth in luxury-hungry Asia.
Three sources with direct knowledge of the plan said Graff, given the blessing by the HK exchange on Thursday, could start drumming up demand for its shares from investors as soon as next week, though there was no timetable for pre-marketing.
London-based Graff, whose giant gems and rare diamonds have been worn by celebrities from Imelda Marcos to Oprah Winfrey, has said it planned to use the funds to open new stores in key locations and build its inventory to keep up with its customers.
Graff's sales are split equally between Asia, Europe and the United States, with growth in Asia far outpacing other markets, founder Laurence Graff told Reuters in a November interview.
Graff joins French cosmetics company L'Occitane, Italian fashion house Prada and luggage maker Samsonite in looking to tap booming demand for luxury goods in China and raise brand awareness, and also paves the way for others eyeing Asia's appetite for gems.
Entrepreneur Beny Steinmetz has said he could seek a Hong Kong listing for his Octea diamond operations, which include the Koidu mine in Sierra Leone, later this year.
The luxury goods industry has been performing well despite economic uncertainty around the world, and that has been reflected in strong demand for shares in listed companies.
Last month, Italian cashmere house Brunello Cucinelli and high-end luggage maker Tumi Holdings both saw their stock surge on their Milan and New York debuts respectively, while shares in luxury brand Michael Kors Holdings have more than doubled in price since their Dec. 15 trading debut.
"Luxury goods have proved slightly protected from wider consumer sentiment," said one equity capital markets banker.
CLSA Asia Pacific Markets estimated Chinese demand will account for 44 percent of the global luxury goods market by 2020. De Beers, the world's largest diamond producer by value, forecast the world's No.2 economy will account for 16 percent of global diamond demand by 2016, up from 6 percent in 2009.
The Graff IPO will also come on the back of a 15 percent jump in the benchmark Hang Seng index in 2012.
The IPO market in Asia-Pacific has had its slowest start in about four years, with overall equity market activity down about a fifth from last year.
Two sources said Graff could list in the second week of June, though no final decision had been made.
Credit Suisse, Deutsche Bank, Goldman Sachs and Morgan Stanley were hired as joint global coordinators on the IPO.
© Thomson Reuters 2023 All rights reserved.